Strength WOD:
5-5-5-5
Overhead Squat
Conditioning:
2010 NW Regionals Event 1:
3 Rounds for Time: 
10 Overhead Squat (135#/95#)
50 Double-Unders
Results
View this photo
View this photo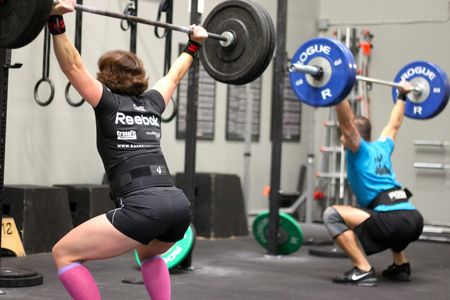 The WOD today was the first WOD of the 2010 Northwest Regionals; a nasty short couplet that taxes the lungs. I'll never forget this WOD at that Regionals, especially Chris Spealler doing this in under 3 minutes. At that time he weighed 135 lbs. and completed 30 bodyweight overhead squats and 150 double-unders in less than 3 minutes. 
Chris Spealler Top Time (2:39) 2010 NW Regional Event 1 [wmv] [mov]
McDreamy demo's the WOD:
Nutrition:
The movie the food industry doesn't want you to see. Fed Up: The Official Trailer 
Regionals:
The schedule for the NW Regionals weekend is out (May 16-18). Go here to see the event start times by heat for individuals and teams.
Stay tuned for announcements of any potential SRCF class schedule adjustments for Friday May 16 and Saturday May 17.