Main Class:
As a Team of 2 Complete AMRAP in 25 Minutes of:
400m Run (as a team)
50 Dumbbell Push Press (35#/20#) 
50 Pull-ups 
50 Dumbbell Front Squat (35#/20#) 
50 Push-ups 
50 Dumbbell Walking Lunge (35#/20#) 
50 Air Squats 
* Alternate each exercise with your partner except for run which must be done together as a team and both partners must be back before starting the reps. Only one member working at a time. Post total rounds.
Advanced RX Class:
"2009 CF Games Final Chipper WOD"
For time:
15 Squat Cleans (155#/105#)
30 Toes-to-bar 
30 Box Jumps (24″/20″) 
15 Muscle-ups 
30 Dumbbell Push Press (40#/25#) 
30 Double-Unders
15 Thrusters (135#/95#)
30 Pull-ups 
30 Burpees
300ft. Overhead Walking Lunge w/Plate (45#25#)
Results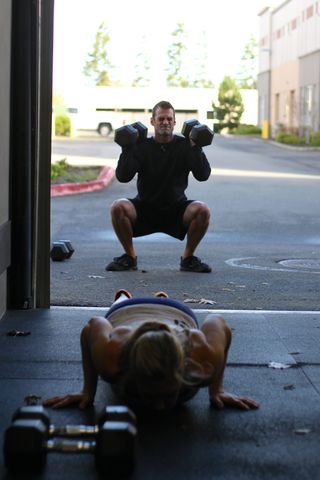 Quote of the day: "The goal is just to get fit, make it the best hour of your day, stay safe, turn up the music, high five some people, and blow off some steam. So remember that. RELAX. HAVE FUN. WORKOUT." ~ Pat Sherwood CFHQ Trainer
Good read from Speal below. What I love most about the community in our gym is that we have all types who train for being fitter in life, train for other sports, or train CrossFit as a sport. And somehow it all just WORKS!
Training CrossFit vs. CrossFit As A Sport by Chris Spealler
The Advanced RX class chipper today brought back memories of watching the final go down in Aromas at the 2009 CF Games.
My recap from that first trip: "Our CrossFit Games Experience"
BREAKING NEWS: CrossFit Threatens America Special Report: Fitness Lonnie