AMRAP 31 Min (As Many Reps As Possible)
8 Thrusters (155#/105#)
6 Rope Climbs (15 ft. ascent)
11 Box Jumps (30″/24″)
This is a Partner WOD – Partner #1 will perform the work listed above. Partner #2 will run 400m with a sandbag (45/25). Once Partner #2 returns from the run, Partner #1 will grab the sandbag and begin their 400m, while Partner #2 continues work wherever #1 left off.
Score – Total # of rounds plus reps
Results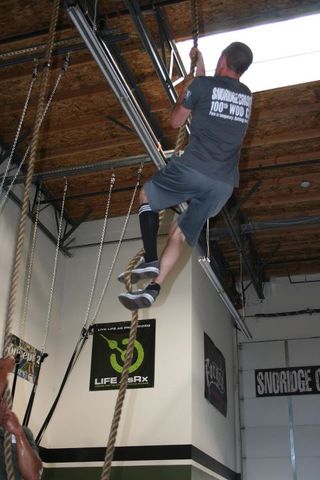 (Pics from Lindsay and Meghann)
On Saturday the WOD was the 31Heroes Tribute Workout. This event was held across the country today at several hundred CF Affiliates and has raised over $300k for the Navy Seal Foundation. 
From the website:
"On September 3, 2011 CrossFit gyms across the nation and world will gather together to honor our heroes killed in action August 6, 2011 with a workout in an effort to raise funds for the families affected by this tragedy. All funds received will go to these families through the Navy SEAL Foundation, other like-organizations, & individual family funds.
The Workout
The workout promises to be a unique Hero WOD. 31 of America's bravest have made the ultimate sacrifice for our sake. We can all agree that no workout will ever be enough to say thank you, but among this community it almost seems to be our version of the "moment of silence", a small way we can honor the those that have gone before us. We hope you'll join us for this moment of silence."
Yesterday was a great turnout at SnoRidge for not only our gang but also the crew from The Compound who came up to join in the tribute. While our coaches ran the event at the box (huge thanks!), Michelle and I were able to also complete this workout down here in CA at CF Centurion with some friends new and old and a bunch of their beasts.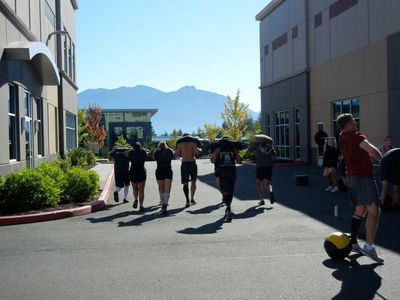 This team workout was extremely challenging and a strong team building event that Michelle S. and Frank summed up nicely:
"I wish we all didn't have '31 Heroes' – as that means they'd still be with us in person, but since we do, I couldn't have asked to honor them with a greater group of crossfitters and coaches! Special thanks to our military box members and Frank's motivational speech at the beginning…when I was tired, I thought "I'm here, they're not…move". Great job today everyone!" ~ Michelle S.
"I know nothing can ever replace the lives of the 31 brave souls that paid the ultimate sacrifice. This shit ain't free. My prayers are with the families of all that serve our great nation. Thank you." ~ Frank
31 Heroes Takes On Personal Meaning For Some Area Athletes
Honoring 31 Heroes, The CrossFit Way Fox News
Workout Honors Fallen Troops ABC News
'31 Heroes': Sweat, Pain Shared in Memory of Fallen Warriors DVIDS