4 Minutes of Max Reps of Each Exercise:
Row (Calories)
Handstand Push-ups 
Back Squats (95#/65#)
AbMat Sit-ups
* Time does not stop, complete max reps for 4 minutes then rotate to the next movement. Continue with each for 4 minutes until complete.
Results
View this photo
View this photo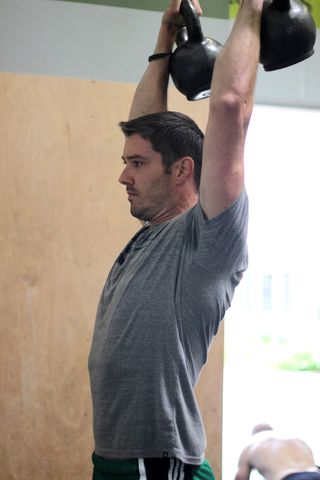 Events:
We have some good things to kick off the summer. We have two food fests coming up in July as well as the CrossFit Games and our "4th Annual Epic-ation" which means the gym will have reduced operating hours for several days around the Games. Stay tuned for the official schedule.
In August we will host a Hero fundraiser WOD for the second year in a row. We also plan to organize another Stand Up Paddleboarding day on the lake, and are looking into a mountain bike group ride from the top of Snoqualmie Pass through the tunnel down to Rattlesnake Lake near North Bend. If that's not your thing then maybe organize some climbing at Seattle Bouldering Project or some day hikes. If you are into that organize a group on the FB page at have at it!
Paleo Potluck In the Park Day on Sunday, July 1st (2-6pm) at Centennial Fields in Snoqualmie. Share a dish, bring your own meat to grill, and bring the kiddos to play in the park. We have reserved the covered picnic shelter that afternoon. (Thanks Amanda!) 
Annual SnoRidge Margarita Fest on Saturday, July 28th (8pm – ?) at Ana's Family Style Mexican Restaurant. Celebrate the end of the 2012 CF Games Open, Regionals and Games season and come get dinner or drinks with your fellow Squatchers. Join the FB event on the SRCF Page.
Workout to Remember:
31 Heroes 2012 to be held on Saturday, August 4th at SnoRidge Crossfit 
The 31Heroes Project exists to honor our fallen heroes killed in action August 6, 2011 through fitness and raise funds for programs that provide support to families of all fallen military heroes—past, present, and future.
This WOD was created specifically to honor the 30 men and one dog that gave their lives for our country on August 6, 2011. It is 31 minutes long—one minute in remembrance of each hero. The rep scheme is 8-6-11—the date of their ultimate sacrifice. Finally, this is a partner WOD. The men who gave their lives were from multiple branches of our military, working together as a team.  In the workout you and your team member will constantly be taking the load from each other providing much needed support and relief. We realize that no physical sacrifice made during a workout can come close to the sacrifice our brave heroes made, but we consider this WOD a CrossFitters 'moment of silence'. This is how we can honor those that gave all in the name of freedom.
Register to participate 
The WOD: "31 Heroes"
In teams of 2, complete the following AMRAP 31 minutes (As Many Reps As Possible):
8 Thrusters (155#/105#)
6 Rope Climbs (15′)
11 Box Jumps (30″/24″)
* Partners alternate work on the above rounds with a 400m Sandbag/bumper run.
This is a Partner WOD – Partner #1 will perform the work listed above while Partner #2 will run 400m with a sandbag or bumper (45/25). Once Partner #2 returns from the run, Partner #1 will grab the sandbag/bumper and begin their 400m, while Partner #2 continues work wherever #1 left off.
Score is your total # of reps as a team.
A good example of why Mark does not program for the gym: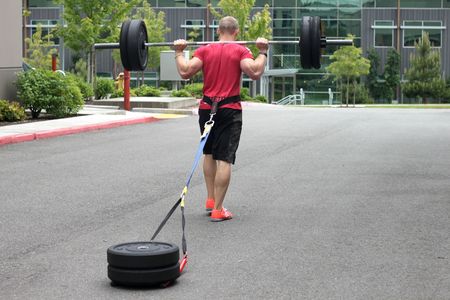 "Hold my beer. Watch this!"