This post is a motivating email from Lindsay that we received a little over a week ago and just had to share. Congrats on your one year milestone. It's been hard earned and no doubt you will reach every goal in your WOD book and continue to achieve new ones! I look forward to next year's email.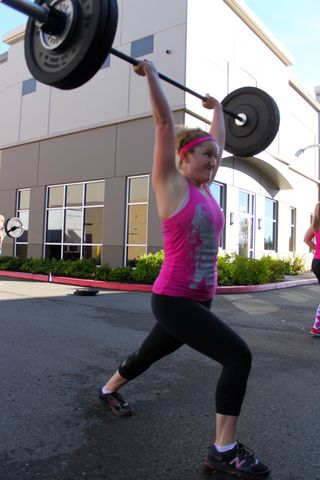 "Today is my one-year Crossfit anniversary. I spent it doing five rounds of 7 man-makers and 400m runs in the Holiday Inn Express fitness room. I went out of my way this morning to ensure that not only did the fitness room have dumbbells, but that they had the flat-sided dumbbells in the appropriate weights. As my day of work played out, I looked forward to not sitting in a board room; to be done staring at a plate of muffins and a box of Tim Horton donuts. I'm not saying that I didn't want to slip n' slide across the table, open-mouthed into said plate of muffins, but it's always easier to resist them when they're not taunting me in person. My newly acquired (although admittedly weak at times) superpower to resist baked good is just one of the MANY things I've done/seen/learned/experienced because of my last 12 months of Crossfit.
I looked at the front page of my WOD book last week, and read the goals I wrote down on my first night of Elements. They were:
1. Do an unassisted pull up
2. Learn to do double-unders
3. Lose 20 pounds
4. Be confident enough to wear a bikini in public
I haven't accomplished all of these goals yet…I've lost 15 pounds to date, and my swimsuit confidence is only at about 80%. BUT those were secondary to my pull up and jump rope goals. I've always been more excited to achieve performance goals, and happy if my appearance and waistline came along with them. One year ago, I was expecting to become a better athlete as a result of CrossFit, and mostly just hoping that my body and confidence followed suit. And in one year, I've gained all of that and SO MUCH more! Before CF, I had been trying to convince myself that I was past my prime…that I would never be as strong, as fast, as thin, or as good-looking as I was when I was swimming and training 30 hours a week. I was trying really hard to be okay with the thought of being average. It wasn't working; no matter what I told myself, I was never satisfied with being "just okay". Our box is the place that let's me be my own superhero…to climb ropes, and swing on bars, and lift heavy $%!& over my head, and to generally work like hell to be better than average. I've gained a home away from home; the family of ninja's I've always wanted. SRCF is my motivation at the end of a long day. It's MY hour of the day. It's where I go to laugh. And to sweat. And to cry. And to slap butts. And to lose some skin and blood. And sometimes…just sometimes…I'm lucky enough to have all of those things happen in the same visit. The road to Awesome is long, and I'm only a fraction of the way there. But the journey so far has been satisfying enough to keep me wanting to get there even faster. 
I've also gained an entirely new perspective on nutrition. Food isn't just something to eat anymore. It has a purpose. For the first time in my life, I purchased a book about nutrition. Seriously, I didn't even do that for my Food Sciences class in college! 
Oh and let us not forget that I've become involved in a love affair with lululemon! My husband not only knows about said affair, but he supports it. Sometimes, he even comes with me to watch!!! Now that's a healthy marriage. 🙂
So I guess the bottom line is this…I HELLA LOVE CROSSFIT!!! And Team Squatch. And my muscles. And Dustin for pushing me to drink the CF Kool Aid.
…And my box. Take that how you will.
Cheers to another year!
Linds"