3 Rounds for time:
500m Row
12 Deadlift (Bodyweight)
21 Box Jumps (24″/20″)
Results
View this photo
View this photo
Row, Lift and Jump = Get Fitter:
Who enjoyed today's benchmark "Christine"? This one is a gasser that robs your box jumps.
Remember the regular Saturday Class is changed to run from 9:30 to 10:30 for the duration of the Open! Open athletes will have from 11am to 1pm to complete the Open WOD. Please note these times.
Bloodied but definitely NOT beaten. Pat and Sean after the Open WOD tonight with some fresh wounds: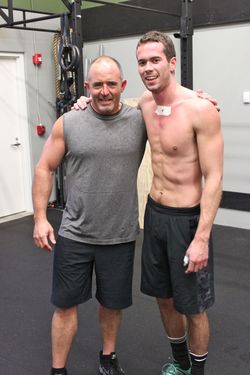 Notes:
Push-up Standards. Watch and analyze YOUR push-ups. What faults characterize your push-ups? Your coaches see them every time we do them. Work on fixing them, we will work on enforcing the standard.