Skill Work:
15 Minutes to work on kipping (pull-ups, rings, dips and handstand push-ups)
Then complete:
With a continuously running clock perform 1 sprint (10 meters) the first minute, 2 sprints (10 meters) the second minute, 3 sprints the third minute, and so on, continuing to add 1 sprint each minute until you cannot complete the required number of 10 meter sprints in the given minute.
* Touch the line for each 10m sprint except the last sprint
Score total rounds and sprints in the last round completed.
Results
Sprint and Tag:
Jana shows another way to get chalked up and ready to go. This is also considered proper chalk usage: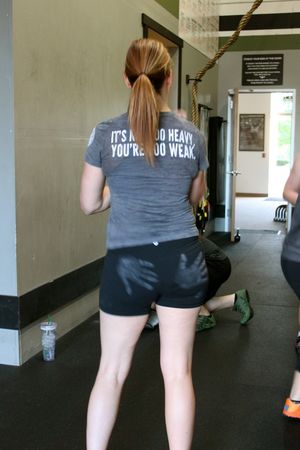 Attention Swimmers!
Swim Clinic: SRCF will be hosting a swim clinic Saturday morning (tomorrow 9/24) from 9am-11am. The clinic is open to all Team Squatch members of all swimming ability levels. Dustin and Lindsay Rogers will serve as our instructors and ambassadors of aquatic merriment. While this is an opportunity to learn new athletic skills (or sharpen existing skills), the most important objective is to just HAVE FUN! As with everything in Crossfit, this will be scalable, based on your comfort level.
*Note: To cover the pool rental, the clinic is $20 per person. If you signed up then please pay us directly*
Location:
Mary Wayte Pool
8815 SE 40th St.
Mercer Island
Basic Itinerary:
1. Warm-up
2. Grouping (by ability levels)
3. Instruction
– Body positioning
– Rotation
– Technique
o Kicking
o Stroke (hand placement, pulling, extension)
o Breathing 
Instructor Credentials (aka. I swear, they know what they're doing!):
Dustin
a. NCAA Div. 1 Swimmer (100yd butterfly, 200yd freestyle)
b. Olympic Trials semi-finalist (100m butterfly)
c. Coach: age group, high school, triathlon clinics, special needs groups
Lindsay
a. NCAA Div. 1 Swimmer (500/1000/1650yd freestyle, 200yd butterfly)
b. World-ranked (1500m freestyle)
c. Coach: age group club, private lessons, special needs groups
Saturday WOD: If you aren't swimming then show up for the 0930 WOD. Reminder no advanced RX class tomorrow. The main class WOD will be scalable for any wanting to scale up!
Frank and some CrossFitters from his Company at Joint Base Lewis McChord after Fight Gone Bad the other day. Frank did it again after Saturday to "break in" the new rowers they got and hit a PR!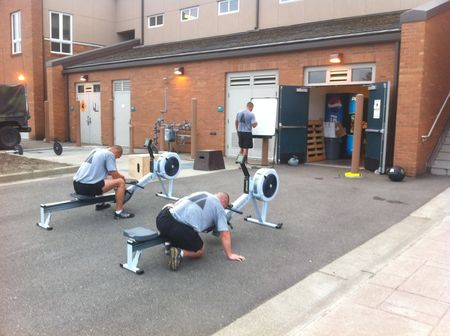 Notes:
Becca Voigt finished in 3rd place at the 2011 CF Games for the women. All while battling severe vertigo for two days from a car accident she was in nine days before. Impressive stuff.
Paleo Nutrition for Kids:
Banana Pops from the CrossFit Journal
Ingredients:
3 bananas
Jar of almond butter
Chopped pecans or your favorite—ahem!—your child's favorite nut
1⁄2 cup dried cranberries
additional supplies
Wooden skewers, cut in half
Directions:
Cover a cookie sheet in wax paper.
Peel and cut the bananas in half width-wise. Stick half a skewer up the middle of the banana. Place banana pop on the cookie sheet. Follow with the rest of the banana halves. Place the cookie sheet in the freezer and leave there for at least 30 minutes.
Spread chopped nuts and dried cranberries on a plate. Take the banana pops out of the freezer.
Dip the pop in the jar of almond butter, and then roll it in the chopped nuts and cranberries, pressing firmly so they stick.
Place the pops back on the wax-covered cookie sheet.
Place the pops back in the freezer for at least 30 minutes until they harden.