10, 9, 8, 7, 6, 5, 4, 3, 2, 1 reps of each for time:
Power Clean (155#/105#)
Ring Dips
Results
Michelle and Emily tackling the WOD this morning together: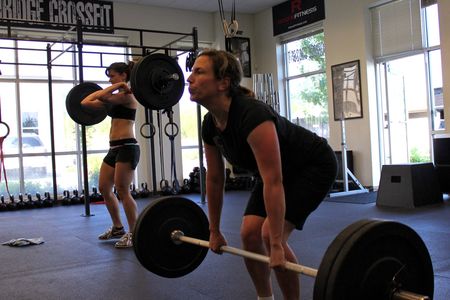 Today's WOD was deceiving! Looking at it makes you think it should be fairly easy and quick. Then at about the round with 7 reps you realize how the heavy cleans and dips are starting to add up. Many WOD's appear this way, easy on paper. WOD's like "Cindy", "Jackie", and "Fran" are commonly underestimated and thought to be easy. These are the ones more often you want to worry about. Couplets, triplets and singlets are workouts that can generate a whole lot of power when done with good technique and high intensity. Oh and remember that order: good technique and then high intensity!
Coaching Tip:  The Ring Dip with Jeremy and Emily
Position the rings so that they are below chest level.
Whether you use a band or not, once you are on the rings minimize swinging.
Keeping the rings close to the body, lower your body down until the elbow is higher than the shoulder (pictured). This is usually observed to be at the point where the ring touches the armpit area.
At the bottom push hard and work to pump your legs (if needed) to work the upward momentum.
Finish the rep locked out at the top.
Notes:
New classes are on the schedule and start this Monday! 6pm classes on Monday and Wednesday with Moe and a 7:30am class on Wednesday with Mark. If they are popular we will keep those additional times.
"SQT" WOD Demo with Chris Spealler from CrossFit.com on [wmv] [mov]
Events:
Several upcoming events are in the hopper. Details and links are on the right under "Upcoming Events"
Danskin Triathlon (Sunday 8/15 – Women Only)
Railroad Days 5k/10k and Kids 1k (Saturday 8/21 – Open to all)
lululemon "5" Fitness Fashion Show at Bellevue Square featuring a CrossFit demo with your coaches (Vogue Fashion Week 8/26 @ 8:30pm) Tickets on sale at the gym
Warrior Dash in Oregon (Sunday 9/12)
Fight Gone Bad at SRCF with CrossFit Belltown and Compound Fitness (Saturday 9/18)