Hate the Game! 
3 Rounds For time:
40 Push Press (65#/45#)
30 Squats
20 Ring Dips
10 Double-Unders
Results
View this photo
View this photo
  Fran locking out: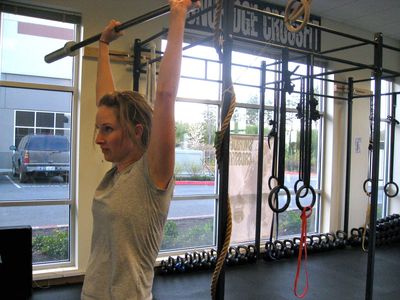 Happy St. Patty's Day from Sangeeta: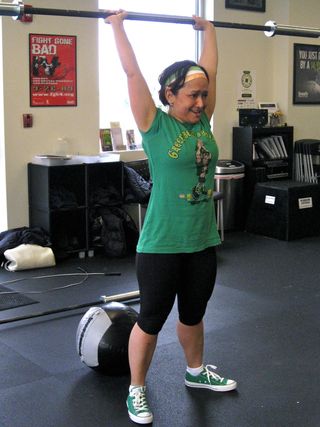 I pulled this WOD out of the Hopper Deck (which I recently found again at the box) and figured this workout fit nicely with our goal this week of emphasizing alternating pull days then push days with cleans and double unders as the skill focus. The Hopper Deck is a deck of cards that has some great WOD's; several benchmarks and many workouts that mix it up a bit. This one appears deceptively easy as the push presses are light and the rest seems straightforward and not particularly difficult (save the ring dips). It's the exact combination of rings and push presses that leave the shoulders taxed and by round three struggling to complete those dips. The squats and jump rope make the urge to rest or slow down constant and start to suck the legs and hips away from the push presses. Two thumbs up for this one!
For those new to ring dips focus on achieving the full dip, whether it's on a box, or on the rings using a band. Make sure the elbow drops below the shoulder in the bottom of the dip and touch the rings to the outer edge of the chest. Extend fully with locked out arms. If you need to kip them then learn to kip by "pumping" your legs down to the floor as you reach extension on the arms. These are taxing and once fatigued note that going to failure will add a significant amount of time to your workout. Stop short of failure to allow your arms to recover enough to bang out a couple at a time.
Your Coaches all got to work out with a class today:
Notes:
Congrats to Fran for getting her double-under about two minutes before the WOD and then completing them RX'd in the workout. Also Rachel ran the 400m unbroken (only 7 WOD's in!) and Rona PR'd her double unders tonight by stringing her first round together. Way to go ladies!
We'd also like to personally thank many of you for the incredible feedback, advice and inputs you have given us recently. From Moe, Curtis, Pat, Bonnie, Jason, Ryan, Jorge, Jana, Eli, Travis, the Compound crew of Mark, Jeremy, and Kim and many more, all of you have helped in some way to let us know what you think is working, what could use some focus, and what you love about SRCF. It's been invaluable and we not only love it but encourage it. Please never hesitate to tell us what you think!
Welcome to Steven and Jackie from lululemon and Jeremy, Kim and Mark of the Compound who have recently started training with us regularly! Make sure you say hi and introduce yourself to them or it's 5 burpees!
Affiliate Team update for the Northwest CF Regionals in May: As the team roster is still open and also since I am competing individually at Regionals; Mark B., Jeremy D. and Kim D. are throwing their names in the hat. Tryouts are still scheduled for April. They will be hard! We need to field a team of 3 men and 3 women that does not scale any potential WOD's or movements as a team. No exceptions! If you are interested let Michelle, Moe or I know. It's ON!