Strength WOD:
Front Squat
3/3/3/3/3
Checkout WOD:
For Time:
1000m Row 
Followed by 21-15-9 Reps for time of:
Front Squat (135#/95#) 
Back Extensions (Sub Good Mornings 45#/33#)
Results
View this photo
View this photo
Quotes of the Day:
"Bring me a challenge. Somebody." ~ Charlie Sheen
"We loves the Moe." ~ Amanda, SRCF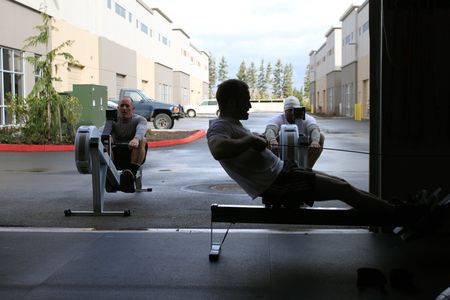 This is what we want you to look like in a front squat (either Heidi or the front loader truck):
Keep that load up high in the rack position and put your weight on your heels (or tires)!
Read: "The CrossFit Games Are Stupid" by CrossFit Montgomery County(MD)
Notes:
Two upcoming events on Saturday 3/12!
– SRCF Grand Re-Opening Potluck and Box Open House: 
NO 10am class!
12pm-3:30pm Saturday 3/12 (this will allow for those who are running the St. Patty's Day 5k)
Bring a dish and do a WOD. We will run a WOD in waves for those interested.
Hang out, bring a friend, socialize and have a good time with your fellow CrossFitters
TBD: Hope to have a lululemon Trunk Show upstairs during this time (currently finalizing details)
– Finaghty's 5k and Kids 1k St. Patty's Day Race in Snoqualmie Ridge:  
Click HERE to register online. Online registration closes at 11:59pm, Monday, March 7th. Let us know if you are running!
Pre-Registration (ends Monday, March 7th)

Kids 1k — $10 (includes a free cotton t-shirt and finisher's medal)
5k — $25 (includes tech shirt)

Late Registration (add $10 for 5k and $5 for Kids 1k – shirts not guaranteed)

Friday, March 11th at FootZone from 1-6pm 

(Issaquah Location ONLY)

Day of Race Registration – Begins at 7am at Start Line on Center Blvd on Snoqualmie Ridge

 

Race Day Schedule

7:00-8:45a.m.- Bib Number Pick Up & Day of Race Reg 
9:00 a.m. – Start of Kids 1k Run
9:15 a.m.- Start of 5k
10:15 a.m.- Awards Ceremony




Pat gets fancy on Strength Days: