For time: 
800m Run
10 Clean & Jerks (135#/95#)
400m Run Backwards
10 Clean & Jerks 
800m Run
10 Clean & Jerks
400m Run Backwards
 
* Mash-up of the Hero WOD "Griff" and the benchmark "Grace"
Results
View this photo
View this photo
Derek joins the "All Ladies Clean & Jerk Class" this afternoon: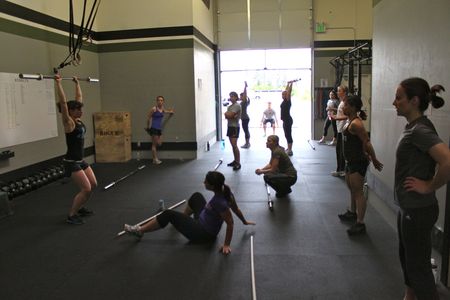 This Friday through Sunday is the 2011 CrossFit Games Northwest Regionals!
We will have one 0930 class tomorrow and then are closed for the rest of the day
We are closed Saturday
Regionals are being held at the Puyallup Fairgrounds
Go here for venue information, heat schedules and times, and other general information
There are multiple regional events running this weekend around the world so check the CF Games site page for day by day recaps and video summaries. 
Come cheer for Mark as he competes in two WOD's a day on Friday and Saturday 
Field will narrow down to the top 14 men, 14 women and 10 teams for Sunday for the final two WOD's
WOD's are here; Standards for Individuals and Teams
Come join us at Regionals! We hope to see you there!
Amy N. goes heavy on the Clean and Jerk: