3 Rounds for time:
Row 500m
10 Handstand Push-ups
Run 400m
Results
View this photo
View this photo
Spencer and Mark locked in a race to end: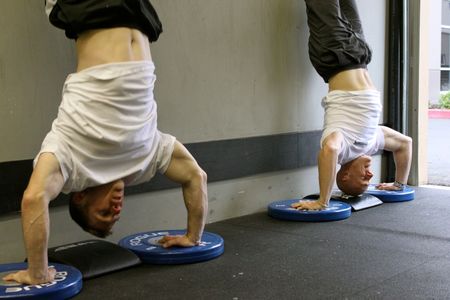 Saturday morning two of our CF'ers are competing at the Gorilla Games in Bellevue at CF Amped. Several of you (including Coaches Michelle, Moe, Rona, and Mark) are going to cheer on Lucy and Sangeeta. Good luck both of you! Have fun and kick ass!
For those who are unable to make the Gorilla Games I will be running the Saturday classes (both Main class and Advanced RX Class). Saturday night is also the SRCF Paleo Potluck and Ugly Christmas Sweater Party at Amanda and Mike's. Everyone is invited so check the box for details and RSVP.
Notes:
Starting next month, we will have a new certified coach (Sean) and his primary class will be for the dogs. Literally. DogFit. Forging Elite K9's. Zoe is ready. Is Sean?
For a preview of Coach Sean's new class watch below:
"DogFit" by Eddie Ifft – video [wmv] [mov]