As Many Rounds As Possible (AMRAP) in 15 minutes of:
8 Thrusters (95#/65#)
2 Muscle-ups
8 Burpee Box Jumps (24″/20″) 
Results
View this photo
View this photo
The birthday dude: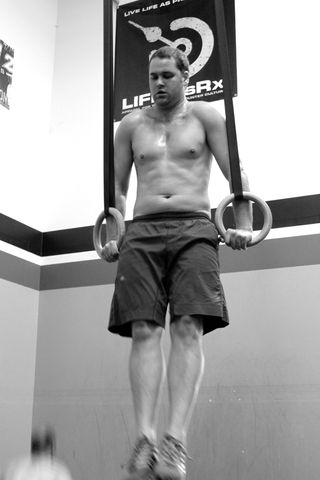 Hope you liked your belated birthday WOD Derek! An AMRAP with thrusters is the gift that keeps on giving.
If you want a birthday WOD let us know. Next up is Heidi. Also if you have recently hit your 100th WOD in the box then get your 100 WOD T Shirt for $15. The latest run came in and there were a few who had wanted one.
Saturday Schedule:
Main Class tomorrow is 0930
Advanced RX Class is 1045
FGB make-up for those who missed it on 9/17 will be at 1030

If you participated in FGB already please plan on completing the main class at 0930 due to the logisitics needed for running a group through their "fight".
Swimming pointer: "Overreaching" with Chris Michelmore – video [wmv] [mov]
"Confidence" 2011 CF Games
"Teaching the Muscle-Up To A Large Group: Part 1" with Pat Sherwood,CrossFit Journal preview video [wmv] [mov]
"Teaching the Muscle-up to a Large Group: Part 2" with Pat Sherwood, Chuck Carswell and Chris Spealler, CrossFit Journal preview video [wmv] [mov]
Amanda demonstrates box steps with flair: