Today we celebrated Michelle's 11th Annual 29th Birthday and Cathy's 13th Annual 29th Birthday!
3 Rounds for Time:
400m Run 
11 Thrusters (115#/75#)
23 Burpees
29 Kettlebell Swings (53#/35#) 
Results
View this photo
View this photo
Quote of the Day: "Water can flow, or it can crash. Be water, my friend." ~ Bruce Lee
Happy birthday Cathy and Michelle!
This year we slightly modified this brutal birthday gasser. We took the burpees to 23 and made the KB Swings 29 reps for their annual 29th birthday. That makes this WOD one where you can push to keep moving through in less sets which drives up the intensity.
Notes:
6pm this Friday upstairs for Q&A with those planning to compete in the CF Games Open.
7pm this Friday we will have 1 spot open (4 taken) to run through the Advanced RX Test.
"History of the CrossFit Games" – video [wmv] [mov] [HD mov]
 "Ramping up for the 2012 Reebok CrossFit Games, athletes of the North West Region are ready to prove that the "Sport of Fitness" is anything but soft and the competition this year will be as fierce as years past."
My Demon Bells have arrived: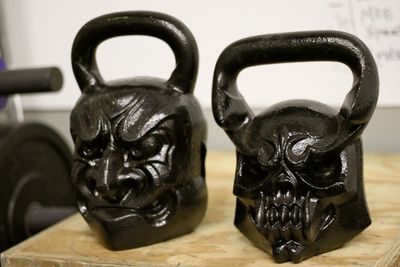 Here are the rules on these:
These kettlebells are SIGNIFICANTLY more expensive than a typical kettlebell. 
They are 1st run in what might potentially be only a 1 run casting.
I ordered these as a set (of four – Michelle's and Ashey's aren't here yet) almost a year ago and have been waiting for them to be made.
They weigh the same as their 1.5 pood (54#) and 2 pood (72#) counterparts that we have plenty of. Use those first.
Although these are kettlebells they are also "works of art" and should be treated as such. 
You may use them only if you can demonstrate a kettlebell swing at that weight with great control and technique.
They will NOT ever go outside unless I bring them out.
They will NOT be dropped or banged into shit. If they are dropped (or banged into other kb's, bars, racks, etc.) it is a 100% guarantee that the penalty will either be 500 burpees or 5 straight WOD's of 100 burpees. Please respect and treat the equipment in the gym the same way you would expect others to treat your belongings!