Strength WOD:
Take up to 12 Minutes to find:
1RM Weighted Pull-up
Conditioning WOD: "Helen"
3 Rounds for time:
400m Run
21 Kettlebell Swings (53#/35#)
12 Pull-ups
Results
View this photo
View this photo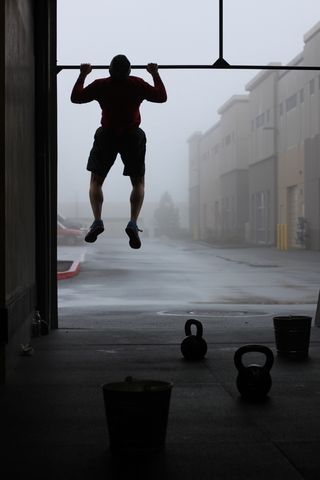 Day 4 of the burpee challenge!
Greg Glassman on why the Benchmark WOD's are named after girls: "Anything that leaves you flat on your back and incapacitated only to lure you back for more at a later date." 
I was going to post a WOD demo of "Helen" that was on crossfit.com recently but as I watched the sloppy reps in it I decided it was much better if I shared the below article. 
A philosophy that all CF'ers should share.
"Condoning bad form for the resulting intensity ignores the big picture. In doing so, we rob our athletes of their long-term potential, artificially capping their progress in the name of immediate gratification. An athlete with poor form and an ugly three-minute "Fran" will always have an ugly three-minute "Fran", while a similar athlete with good form will soon find himself pushing the limits of possibility, utilizing the structural advantages of the perfect thruster to close in on two minutes." – Jon Gilson on The Non-Negotiability of Perfection