3 Rounds for time of: 
500m Row
25 Ball Slam (30#/20#)
20 Up and Over Box Jumps (24″/20″)
15 Handstand Push-ups
Results
View this photo
View this photo
Frank is so efficient he is resting while he is working.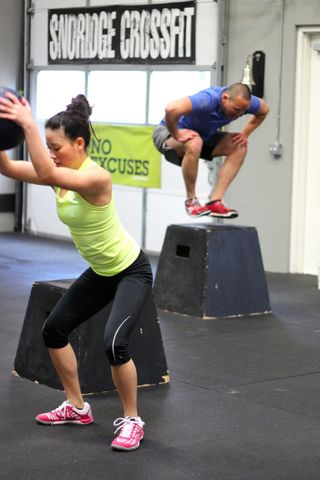 What's in store for tomorrow? Workout 14.4! For complete workout standards, video and scorecard click here. This one's gonna be a fun one! For those coming in the PM for "Friday Night Lights". Choose your time slot, bring drinks and hang out after the WOD.
Watch Archived Live Footage of Josh Bridges vs. Scott Panchik on Workout 14.4
Great turnout for the 14.4 Announcement at CF Bellevue tonight. We had 25 people there (not pictured Scott, Kim, Jeremy, Dylan, Deb, and Dana)!