Strength WOD:
25 Minutes to warm-up and then take 3 attempts to find your 1RM 
Back Squat
Checkout WOD:
10 Rounds for Time of:
100m Run 
5 Knees-to-Elbows 
Results
View this photo
View this photo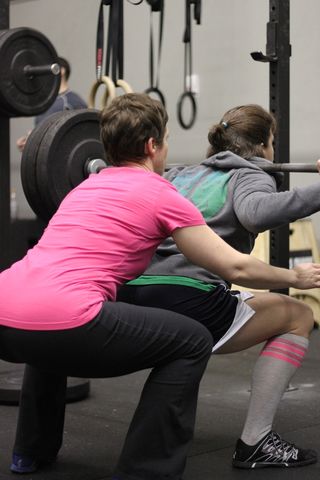 The CrossFit Total. A WOD designed to test raw strength. Three lifts, done in order, with specific rules. Back Squat, Press, then Deadlift. You warm-up then have 3 attempts only to attempt a 1 rep max for each lift in order. Once you finish warming up and begin your official attempts you cannot get a 'do over'. After back squat you move onto the next lift and continue the warm-up then 3 attempt pattern all the way through. At the end of the Total you add your best successful load for each lift (BS/PR/DL) and arrive at a CF Total. It's time consuming and also taxing to find a 1RM for 3 straight lifts.
Since it's such a time consuming workout the intent this week is to break it up over three days. Today through Thursday we will find a new one rep max for each lift but still follow the rules of 3 official attempts. While not officially a Total it will still be a great week of strength testing (with three checkouts after). Get in and get your lifts done and ring that PR bell!
Notes:
Stop the Slop Challenge winners will be announced tomorrow. We are waiting until the Essays that were submitted are all voted on by the Coaches for the winner. Each essay has been amazing to read and this is a very tough choice.
If you haven't registered for the Open and plan to then get it done and call time!
Watch: "I Am The Fittest" – video [wmv] [mov] [HD mov]
Register for the Open here
Knees-to-Elbows standard: Self explanatory, if they don't touch then you didn't do it.