5 Rounds for time:
400m Run
7 Hang Power Snatch (135#/95#)
5 Overhead Squat (135#/95#)
Results
View this photo
View this photo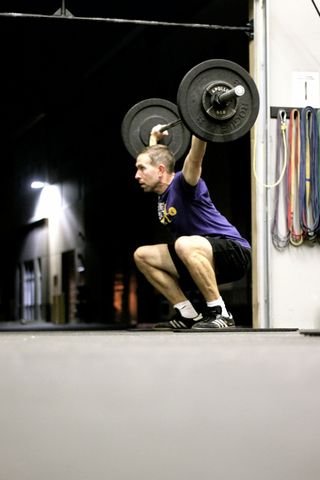 Quote of the day: "The Open is the party we all get to crash, no matter where we live in this world, no matter where we are on the sickness-wellness continuum. It doesn't matter if you're a beast or you're brand new to the Sport of Fitness—you're invited." ~ Lisbeth Darsh of CrossFit HQ
Today's WOD was similar to the benchmark "Nancy". A little heavier, a little slower, but a good test to stay on the bar to complete the complex and get back to the run.
Danny Broflex: Episode 3 – The Offline Show – video [ipod] [mov] [HD mov]
Two videos below with great tips/cues and progressions but with very different styles of coaching (not a big fan of the feedback style in the MU video but the analysis is spot on). If you are working on either handstands or on muscle-ups than watch these both. Note how in both movements the "hollow" position is vital. Practice. Then practice more. 
If you already have a muscle-up then watch the video and compare your style and technique and assess whether you have room to become more efficient. I guarantee you do. 
"Developing the Handstand" with Camille Leblanc-Bazinet – CrossFit Journal video [ipod] [mov] [HD mov]
Nich Bloch Muscle-up Comparison with Daniel Tyminski by the Outlaw Way