As Many Rounds As Possible in 20 Minutes:
5 Med Ball Cleans (20#/14#)
10 Pistols
15 Double-Unders
Results
View this photo
View this photo
Compare to Previous Results
Nan and the perfect pistol. It's tradition almost to use her picture for a pistol!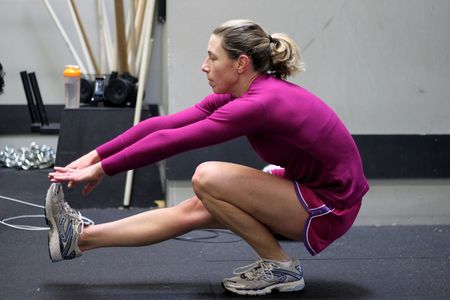 Quote of the Day: "The fact there is even a distinction for "plus size" after a certain number indicates the problem in the thinking. The right size is the size that fits me right now; whether it's a 2 or a 22. There's nothing harder than going into a gym to try and improve your health and having to battle label after label to do it. CrossFit sure makes it easier…the battle becomes a battle against me alone. What did I do yesterday? Can I do better today? No one else's labels matter at that point. The key is to just keep coming back. That's the only plus there should be." ~ Lorraine
Congrats to Matt, Jason, Spencer and Lisa C. who all took and passed the Advanced RX Challenge tonight! They each passed with room to spare and made some things look pretty easy. Thank you to the coaches for the help judging and all you peeps who came to cheer them on.
The Overhead Squat with Lindsay L.:
Armpits forward, knees out, chest up, weight on heels, tight core, lumbar curve, neutral head.
Shit Crossfitters Say: www.youtube.com