Strength WOD:
2-2-2-1-1-1
Snatch
Conditioning WOD:
3 Rounds for time of:
12 Thrusters (115#/75#)
6 Muscle-ups
Results
View this photo
View this photo
Spencer hits the Power Position: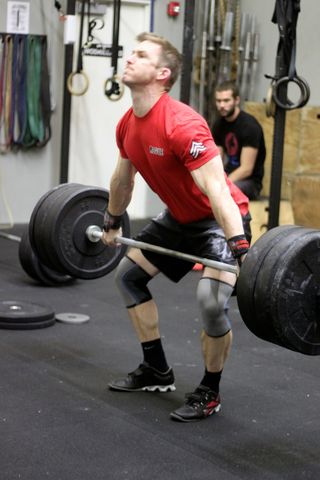 The power position or "pockets" phase of the snatch is the position of the bar in the second pull near the mid-thigh or hips when the acceleration begins and the power is shifted from the heels into the floor as the athlete begins the "jump" with straight arms. Think "speed" and "power" through the middle while keeping the bar close and the knees out. This phase is crucial to generating a strong finish before transitioning into the third pull quickly under the barbell. 
Practice this position with a PVC and empty barbell and then master it at light loads so it becomes subconscious.
Cueing the Power Position: CrossFit Journal
Big day tomorrow. Go Hawks! OnRamp, Team WOD, and Advanced awesomeness all on tap before the Saints get crushed!