3 Rounds For Time:
400m Run
21 Kettlebell Swings (53#/35#)
12 Handstand Push-ups
Results
All warmed up and ready to go…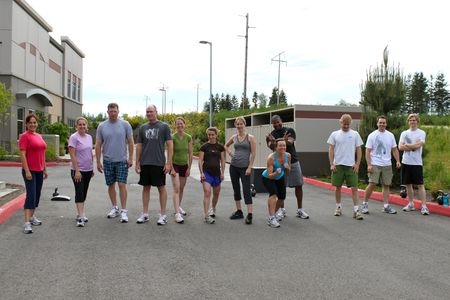 Synchronized Swings: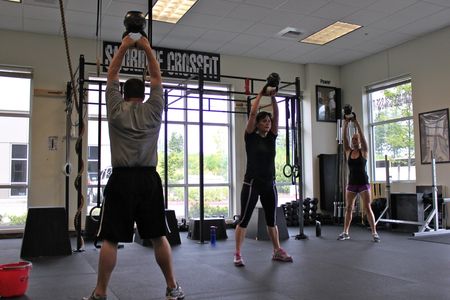 Handstand Push-ups and their variations:
Maintain a "hollow" position, think feet over hips over chest over hands, core tight with hips pulling into abs slightly.
Hands are flat and shoulder width to just slightly wider, fingers are splayed apart.
Point toes to the sky.
Hold the breath tight, lower yourself with top of head to floor (not forehead) and push up similar to a press, exhaling at the lockout position.
Scale using:
Pike floor push-up, keeping your legs as straight as possible, touching head to floor.
Pike push-up off of a box, keeping legs straight, top of head to floor. Adjust the height higher and walk your hands in closer to the box to increasingly place a larger load on the hands and shoulders to press or push-up.
Work your way to pike push-ups with feet on a wall then gradually being inverted with a full range of motion.
John and Jenna demonstrate:
Notes:
It's not everyday you open the local paper and read about one of your clients. Autumn is a local web-lebrity! Read about her and her business partners endeavor with Macaroni Kid in the online version here.
If this video clip doesn't get you motivated to hit the wod then what will?
The 2010 CrossFit Games, "Are You Ready?" [wmv] [mov]