For time:
40 Ring Dips
40 Front Squat (53#/35#)
*Post WOD pick a time and complete 3 x Max Handstand Holds at either 15 sec/30 sec/45 sec/ or 1 minute
Results
View this photo (WOD Results)
View this photo (Elements Results)  
"With this ring I thee dip…" ~ Jorge and Jana ring dips for fiance's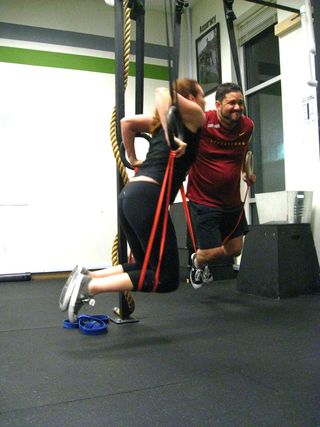 Part two of a "taste of the Sectionals". Rather than forty handstand push-ups, today we paired ring dips with heavy front squats. Using the bands to scale ring dips allowed full range of motion while giving just enough assistance to tax the arms, shoulders, and chest. Forty reps straight proved tough and left the arms a bit noodle like before tackling the barbell. The squats should have felt heavy but still allowed proper form with the weight in the rack position with the chest and elbows up and the weight on your heels. 
Avoiding your weaknesses inhibits athletic development. Following the WOD it was skill time with some basic instruction on handstand holds and getting more comfortable being inverted. For several of you it went from "I can't do this" to nailing holds of 15, 30 and 60 seconds at a time. The handstand hold is not meant to be a parlor trick or some step toward becoming a gymnast. It's a movement that will strengthen your core, develop a stronger overhead press, teach balance and agility, and develop confidence. It's the first part towards handstand push-ups, an incredibly taxing exercise that we will see more of. Like anything else it can be scaled so get comfortable getting inverted and have fun. Don't worry, we will be there along the way to teach, coax and catch you. One handstand at a time.
Notes:
Schedule Change for next week only: On 3/9 next Tuesday there will be NO 6am class. Moe will swap that class and teach on Monday morning at 6am (3/8). No change for Thursday.
SnoRidge CF WA Sectionals pics on Flickr. Thanks to all who have shared their pics! I'll keep adding more and more from the many CD's we received!
Also Rainier CrossFit posted pics to Flickr of the weekend.