Skills WOD:
10 Minutes:
Muscle-ups or Ring Handstand Push-ups
(Progression/practice: Scale as needed to practice any parts of the muscle-up or handstand push-up)
Conditioning WOD:
3 Rounds for time:
6 Muscle-ups
30 Wall Balls (20#/14#)
12 Handstand Push-ups
Results
View this photo
View this photo
This is Rob's handstand push-up shirt: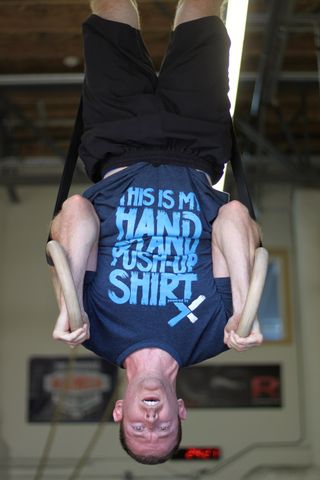 Congrats today to Barbara on reaching her 100th WOD and joining the 100 WOD Club and to Rona and Lisa for getting more MU's (Lisa's 5th first!).
A visual example of why a kipping chest to bar pull-up is a skill needed for a kipping muscle-up:
For the next few days I won't be posting any updates or results. Coach Moe will still capture all the whiteboard results and I will post them after the weekend.
Want to stay up to date? There is a TON of footage and updates on the Games site being refreshed daily. You can watch everything from each heat of the Masters and Individuals to recaps to update shows. 
ATTENTION:
Modified class schedule for the Games that starts Thursday through Monday.
**If you don't see a time listed below for that day then those classes are CANCELLED!**
Official SRCF Class Schedule with Coach Moe during the CF Games:
7/25: Thursday        11:30am, 5pm, 6pm, 7pm Classes ONLY
7/26: Friday            11:30am, 5pm, 6pm Classes ONLY
7/27: Saturday        9:30am Class ONLY
7/29: Monday          11:30am, 5pm, 6pm, 7pm Classes ONLY
CrossFit Games Update Show: July 24, 2013
Archived Footage of the Wednesday Night Announcement