Strength WOD:
1-1-1-1-1
1 High Hang Snatch + 1 Hang Snatch 
* Squat
Conditioning:
As Many Rounds As Possible In 7 Minutes of:
10 Toes-to-Bar
20 Ball Slams (30#/20#)
30 Air Squats
Results
View this photo
View this photo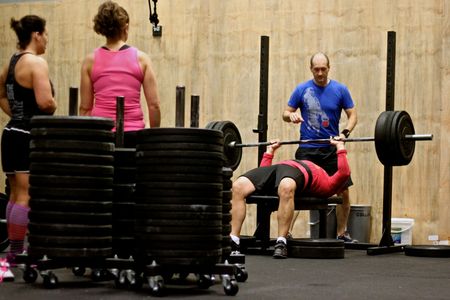 Several teams turned out for the 2nd week of team events that were announced today. The 2RM Bench Press was one of four WOD's, which is a rare movement to see programmed, especially for a CrossFit competition. Lots of fun by the teams tonight.
Week 2 CrossFit Team Series events announced
October OnRamp dates have been set. Sign-up now before all the spots fill up! There are only a few remaining.
Tuesday 9/30 at 7pm
Thursday 10/2 at 7pm
Saturday 10/4 at 8:30am
Tuesday 10/7 at 7pm
Thursday 10/9 at 7pm
Saturday 10/11 at 8:30am
Paying for On Ramp reserves your spot in the class.