Strength WOD:
Clean and Jerk
3/2/1/1/1
* 15 Minutes for C&J practice with excellent technique. Work up to 90% of 1RM. If you feel strong go for a PR, but never with poor technique. 
Checkout WOD:
"Test 3"
Tabata Air Squat
Max reps of Muscle-ups in 4 minutes
The Tabata interval is 20 seconds of work followed by 10 seconds of rest for 8 intervals. Tabata score is the least number of reps performed in any of the eight intervals. Begin time for muscle-ups immediately after the last 10 second rest interval. Test score equals Tabata score multiplied by number of muscle-ups completed.
* Sub Ring pull-ups or C2B pull-ups for Muscle-ups.
Results
View this photo
View this photo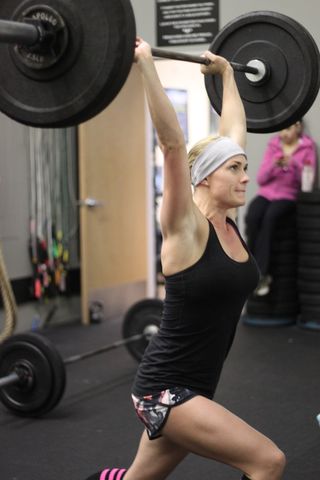 Yes. More Clean and Jerks. Just like the Snatch last week it was time to work heavier towards the 1RM. A few went for a PR and hit it while most worked on technique. The skills focus in Test 3 was the muscle-up or working C2B pull-ups or ring pull-ups (with or without a false grip and vital to the muscle-up). 
"Set-Up and Positioning in the Olympic Lifts Part 3: Set Up Variations"CrossFit Journal preview video [wmv] [mov]