Strength WOD:
Every Minute On the Minute for 10 Minutes (EMOM) complete:
1 Hang Snatch (squat) (Choose Load)
Conditioning:
3 Rounds for time:
500m Row
25 Push-ups 
400m Run
Optional Checkout:
For time:
50 Hollow Rocks
Results
View this photo
View this photo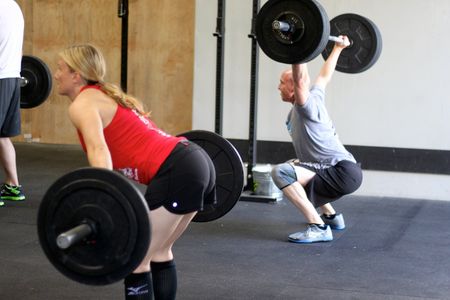 Push-up practice today for Murph and a little run/row to get the heart rate jacked. Murph is this Monday!
This Monday on May 26th, we will be hosting the annual Murph Challenge 2014. This year we are programming the Hero WOD "Murph" for Memorial Day.
Monday Schedule:
0830, 0930, and 1030 classes only 
No PM classes! 
Sign up in the gym on the whiteboard for your time slot
"Murph" WOD:
Run 1 mile
100 Pull-ups
200 Push-ups
300 Squats
Run 1 mile
* Break up the pull-ups, push-ups, and squats how you want. Wear a 20# vest if you have it.
** Half Murph strongly encouraged for your first time. (all distance/reps cut in half)
After all the heats are done at 1230 we are also having a potluck/BBQ lunch. We will have "Lone Survivor" to play on the TV as well as we will replay Regional streams from this coming weekend. Even if you don't do the WOD feel free to come for the potluck/BBQ. Bring a dish or whatever you want to grill. (Now I just need to find a grill…)
Notes:
The number one area overlooked in recovery (me included):
Understanding Sleep for Optimal Recovery & Productivity by Catalyst Athletics