As Many Rounds As Possible in 15 Minutes:
10 Kettlebell Swings (70#/53#)
10 Box Jumps (24″/20″)
10 Ring Dips
Results
View this photo
View this photo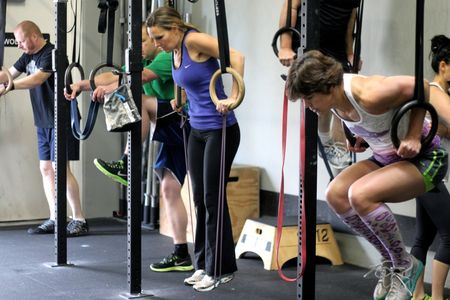 Yesterday the rep scheme was all 7's. Today was all 10's.
Wanna see Regionals footage this weekend? Check out the Live streaming or recap footage each day from various regions in action at the link above.
Jason Khalipa sets the CrossFit Games Regional Record "Jackie" time of 5:04, NorCal Regional.
CrossFit: Turning Sevens Into Tens Promo
Nutrition:
Book Review:Paleo For Dummies by whole9life.com
Events:
Have a safe Memorial Day weekend!
Monday (5/27) we will run the annual Memorial Day Murph fundraiser workout.
For those unfamiliar with LT Michael Murphy, aka "Murph", he was an American hero and Medal of Honor recipient and honored with one of the first CrossFit Hero workouts. If you register on the MDM website you will get the annual t-shirt with proceeds going to help three charities that benefit our troops/families of fallen vets.
Murph is a tough WOD. We will push for correct scaling for each person (such as a 1/2 Murph)! 
3 rules for any Hero WOD:
1. No complaining, bitching or whining.
2. No quitting.
3. Remember what this represents and honor those who have fallen. 
• Monday 5/27 we will be open for the morning only for Murph (along with 1/2 Murph – cut reps, runs in half)
• Class times will be 0830, 0930 and 1030 (Gym is CLOSED for all PM classes)
• Please sign up on the whiteboard IN THE GYM. If a smaller group is ready be prepared to go, as we will utilize upstairs if needed. 
"Murph" WOD (aka "Body Armor" – what he called it):
Run 1 mile
100 Pull-ups
200 Push-ups
300 Squats
Run 1 mile
* Break up the pull-ups, push-ups, and squats how you want. Wear a 20# vest if you have it.