Strength WOD:
2-2-2-2-2
Thruster
Conditioning:
"Death by Wall Ball"
With a continuously running clock Every Minute On the Minute (EMOM) complete 2 Wall Balls the first minute, 4 Wall Balls the second minute, 6 the third minute, and so on, continuing to add 2 each minute until you cannot complete the required number of reps in the given minute.
Score total rounds and reps in the last round completed.
Optional Post WOD Skill Work:
Max Rep Muscle-ups (Strict)
Results
View this photo
View this photo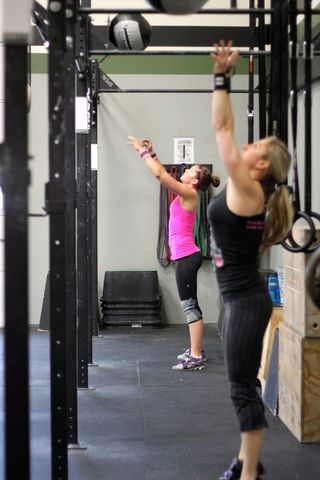 Regionals are underway and you can watch any Region and any of the events by going to the link below and streaming the coverage. Switching live between regions has made for an amazing amount of coverage available compared to past years.
Bill Grundler Talks Regional Strategy – [video]
Notes:
While our May OnRamp sold out, June is now available for registrations. If you know someone who is thinking of wanting to start CrossFit, spread the word before June is full!
Did you know? We offer a discount for those who pre-pay their dues in full either 6 months (15% off) or 12 months (20% off) in advance. If you are a Microsoft employee don't forget to use your StayFit benefit and you can get reimbursed for your dues.