5 Rounds for time of:
50 ft. Overhead Walking Lunges w/Plate (45#/25#)
21 Burpees
Results
View this photo
View this photo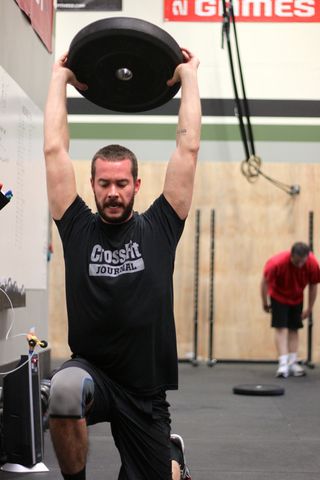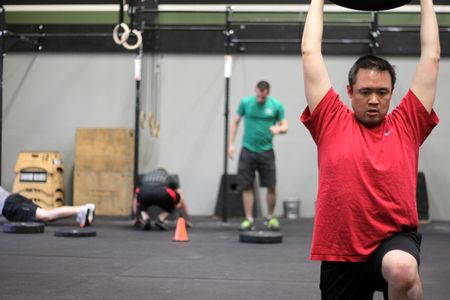 Better than the Open: 2014 Masters Qualifier Events Announced
We will do one of these events tomorrow! (Hint: bring your jump rope)
CrossFit Games Update: Masters Qualifier Events – [video]
Stay in your lane!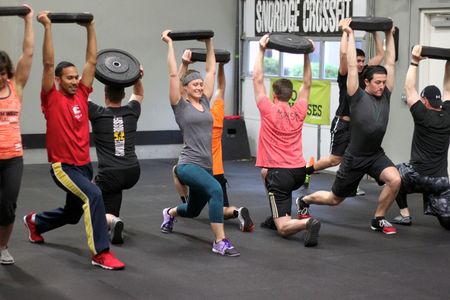 * Note: no CrossFitters were injured in the taking of this photo
Notes:
May On Ramp Schedule:
Tuesday, May 6 at 7:00 pm
Thursday, May 8 at 7:00 pm
Saturday, May 10 at 8:30 am
Tuesday, May 13 at 7:00 pm
Thursday, May 15 at 7:00 pm
Saturday, May 17 at 8:30 am
Please email us for availability to reserve a spot before you sign up!
Info on OnRamp:
Go here to pay and sign-up for OnRamp:
Regionals:
Last chance to order your Team Buskas SRCF shirts for Regionals. Printed by our friends at Anfarm these will be red t's with white and black ink.
Get your shirt to support Mark at the CF Games NW Regionals from May 16-18 at the ShoWare Center in Kent. Let's get a posse of red in the stands! Pre-order your size in the gym, or email us or post to the FB group.
Men's American Apparel 50/50 and Women's American Apparel 50/50 T's. Cost: $20 each.