Strength WOD:
3-3-3-3
Deadlift
Conditioning:
3 Rounds for time of:
50 Calorie Row 
15 Handstand Push-ups
50 Double-Unders
Results
View this photo
View this photo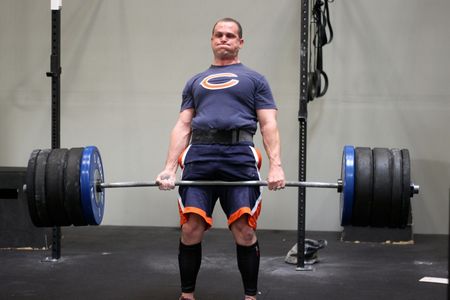 Today we programmed one of the four Masters Qualifier WOD's for the CF Games. The top 200 in each age group from the Open have to complete all four of the Masters workouts by this Monday (they were announced yesterday afternoon). Those in the running can do them in any order and as often as they wish, they must video them and then post their score. Upon request they will have to produce the video of any workout to submit for standards verification. The top 20 men and women from each age bracket will be invited to the CrossFit Games.
This Qualifier step is new this year for the Masters and steps up the level of competition prior to the Games. In the men's age group of 40-44 there are two legends of the 1st CrossFit Games (the 2007 CF Games Men's Champ and the 2nd Place runner-up from that year). In the women's age 40-44 group there are three CF Games Women's individual competitor vets. Each age group has many who are flat out awesome CrossFit athletes. 
Deadlift Sequence with Mark: