Skills Work:
3 Rounds not for time (Focus on form and technique):
12 Push-ups
12 Kettlebell Swings (53/35#)
* Push-ups should be perfect, full ROM, elbows close to body, thighs should not touch floor
** KB Swings should point bell perfectly vertical with arms straight overhead.
WOD:
As many Rounds As Possible in 12 Minutes of:
5 Deadlifts (135#/95#)
7 Push Jerks (135#/95#)
10 Box Jumps (24″/20″)
Results
View this photo
View this photo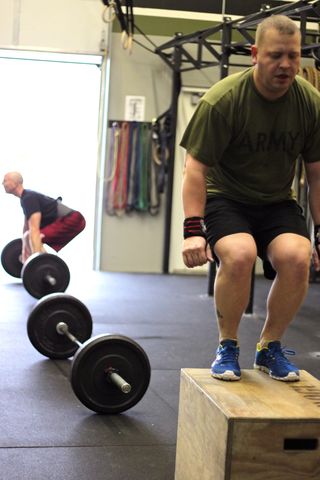 So last night before we did our 20RM back squat I spent some time with each of the late classes working on external rotation and setting up for the squat by focusing on knees out, feet straighter at the setup and "spinning dinner plates" to get the hips, knees, posterior chain and feet in alignment for a better squat. Then today this was the video article posted on the CrossFit Journal. I feel like Nostradamus.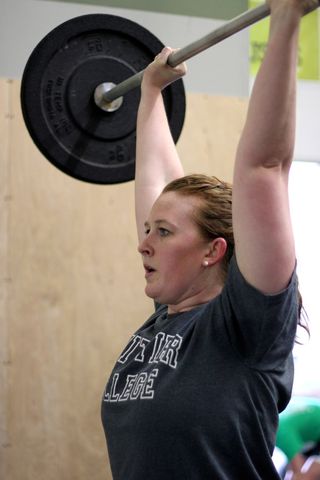 Nutrition:
"There is nothing healthy about diet soda. It is simply water with artificial sweeteners and other chemical additives, such as phosphoric acid. The safety of artificial sweeteners is questionable, and they provoke the release of insulin and other hormones that regulate blood glucose; their intense sweetness confuses the body, which naturally associates sweet taste with calories – over time, these mixed signals can lead to increased appetite and weight gain.10 Diet sodas don't just weaken our bones, they are linked to kidney dysfunction and promote obesity; furthermore, in a recent study, older adults who drank diet soda daily had a 43% increased risk of heart attack or stroke compared to those that never drank diet soda.11″
Click here to read the rest of this article
From: Diet Soda Depletes Calcium and May Increase Heart Attack Risk