3 Rounds for Time:
400m Run
40 Squats
30 Sit-ups
20 Push-ups
10 Pull-ups
Results
View this photo
View this photo
View this photo
Debra and a solid push-up: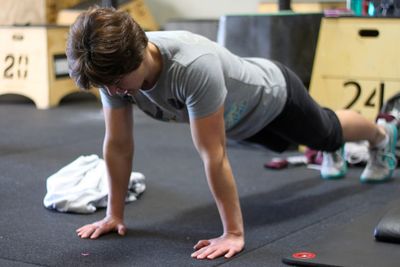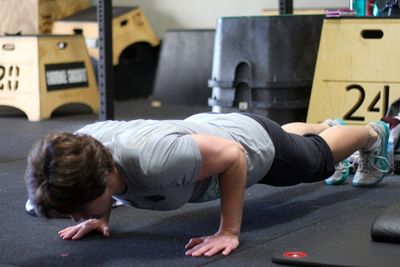 A 3 round spin on Baseline today. I didn't expect to see many 2 round PR's (you could note your time at 2 min. if you PR'd and record it) but when the mind knows you have another round to go it's not likely you will sprint that 400m lap and go all out through the reps. 
Surprising to read a story in Men's Health of value but these are the same areas we commonly focus on (knees out, good shoulder position, and mobility/rolling/proper recovery of your shoulders, legs and calf muscles):
Avoid Common Weightlifting and Sports Injuries: Men's Health
CF Games 2013: 2 days until we learn the first WOD of the Open.
"The Open Is Upon Us" – [video]