Strength WOD:
Deadlift
5/5/5/5/5
Checkout WOD:
4 Rounds for Time: 
5 Deadlift (225#/135#)
10 Knees-to-Elbows
15 Burpees
Results
View this photo
View this photo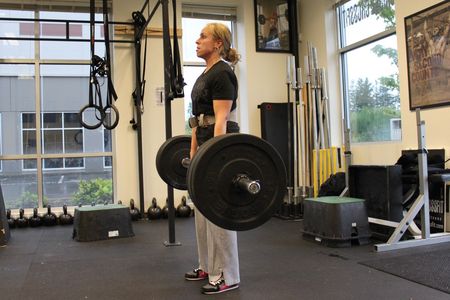 The deadlift is one of the building blocks to getting strong and developing a solid core. Done consistently the gains will more than pay off across the board in other strength exercises and WOD's in general. The deadlift forms the core lift we use any time we pick up a barbell, dumbbells, med ball, kettlebell, etc. Get strong so you can go faster and lift heavier. 
Talk about getting strong, here are a few examples of some of you who smashed some PR's today from the last time we did a 5RM deadlift: Eli who went up 30 lbs. from 175 to 205 lbs., Rob who went from 205 to 285 lbs. and Michele B. (Mish) who went from a 1 rep max at 205 lbs. to a 5 rep max at 205 lbs.!
Coaching Tips: The Deadlift with Rob
Think "Stance, Grip and Position" on every single lift
Stance: Feet under hips, bar is around 1″ from the shins
Grip: Symmetrical on the bar, use either parallel, alternate or hook
Position: Lumbar curve, core tight, shoulders in front of bar and scapulae over bar, head straight ahead, weight on heels
The Lift: 1) Hips and Shoulders rise together 2) Weight stays on heels 3) Arms are straps (no bend) 4) Stand straight up 5) Bar travels up in a straight line along the legs 6) Stand tall, open hips and don't hyper-extend by leaning back dramatically
Notes:
Welcome Maria and James who both finished Elements this week!
"Questions" with Jason Khalipa – a CrossFit Games video [wmv] [mov]
Watch the best explanation for how to butterfly kip I have seen yet. If you cannot already do dead hang or kipping pull-ups well then stay patient and focus on those. The butterfly is an advanced technique to progress to once you have a very solid kipping pull-up. 
The Butterfly Kipping Pull-up explained with Chris Spealler: