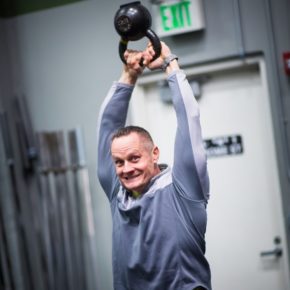 Shoulder Press 2-2-2-2-2
Shoulder Press 2-2-2-2-2
Use the heaviest weight you can for each set.
Rest as needed between sets.
3 RFT: Rows, Push-up (hand release)s and Kettlebell Swings
3 rounds for time of:
Row 500m
15 Push-up (hand release)
25 Kettlebell Swings
Photos by @robcwilson
The Open is HERE!  Look how excited both Bob and Shay are! Today we're all smiles looking forward to the announcement then tomorrow we all get to just curl up and cry on the floor.
CF Games Open Team SnoRidge CrossFit Roster Count: 37
The first WOD announcement from CrossFit (18.1) is here.
Sign up and join our Affiliate and then select our Team (Team SnoRidge CrossFit).  Sign up now to be a part of the fun. It's not too late!
New to the Open and not sure what it is? The Open is the first stage of the CrossFit Games and is open to ALL in the community.  There are RX, scaled, teens and masters divisions to be part of. You can choose to scale one week and RX the next depending on the workout, movements, loads and standards.  Each week starting this Friday for 5 weeks we will program it as our Friday WOD for all classes.  If you are registered one of your classmates will judge your movements and count your reps. You will enter your score online or in the CrossFit Games app each week and you can see how you stack up against the world, region, state, age, etc.  It's $20.
If you are planning to workout during Friday Night Lights (Friday PM classes) for the next five weeks then be prepared for registered heats/judges to go first. We will make sure everyone gets to workout!
Results
Results cont