Complete as many rounds and reps as possible in 10 minutes of:
5 Shoulder to Overhead (115#/75#)
10 Deadlifts (115#/75#)
15 Box jumps (24″/20″)
Results
View this photo
View this photo
Steppin' to the Oldies:
Attention competitors: Post rounds/reps completed to the CrossFit Games Open website.
For those who went today do not forget to post your scores! I need to validate them so do it now. 3-2-1 Go!
Open WOD 13.2 Guidelines:
One bar and box per athlete. Judge required for competitors only. Two waves will be run per class.
Standards: 

STO: Start in front rack, clean from ground. A press, push press, push jerk or split jerk may be used, as long as the elbow, shoulder, hips and knees are fully extended, and the bar finishes directly over the body with the feet in line. No rack.
DL: Starting at the floor, the barbell is lifted until hips and knees reach full extension with the shoulders behind the bar. The arms must be straight throughout. No sumo DL.
BJ: The rep finishes with the hips and knees fully open while in control on top of the box. (No rebound off top!) You may jump or step up or down as long as both feet start on the ground and both feet end on the box in control.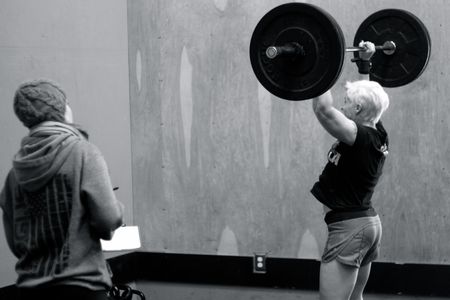 Watch the Workout 13.2 Live Announcement on the CrossFit Games site
CrossFit Games Open 13.2 workout instructions – [video]