Strength WOD:
Press (Strict)
3/3/3
Checkout WOD:
With a continuously running clock perform 1 Power Clean (95#/65#) the first minute, 2 Power Cleans the second minute, 3 Power Cleans the third minute, and so on, continuing to add 1 each minute until you cannot complete the required number of reps in the given minute.
Score total rounds and reps in the last round completed.
Results
Rob presses it out: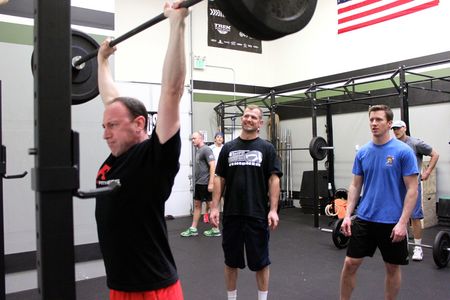 Cleaning Crew: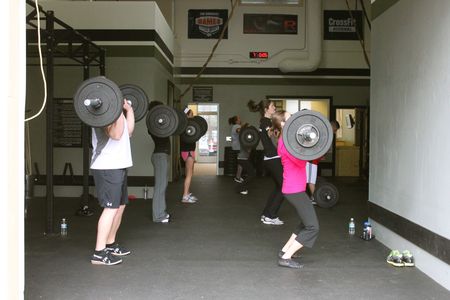 Lots of rounds in this "death by" today. Who has sore legs from Monday?! For those with super high numbers and good cleans next time consider going heavy and stay efficient. See you all tomorrow for more good times! 
The Face of Intensity: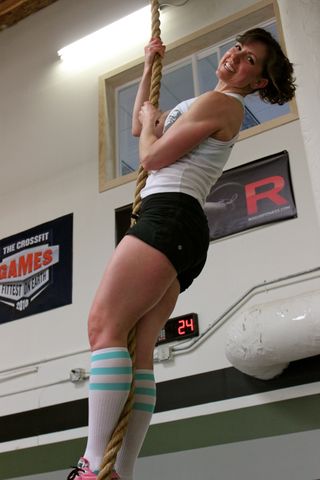 A word on the CF Games at the end of July. As you know Michelle and I (and several of your coaches) will be making our annual vacation pilgrimmage to the city of Torrance and the Home Depot Center in CA to watch the fittest battle it out. During this time the box will be closed. We will plan to post some workouts that anyone can do on their own while we are gone. Dates will be posted as plans are finalized.
That weekend of epic CrossFit competition includes our very own Pat who this year will be competing in the Masters Division. While we are down there of course we will be coaching him and supporting him. He will likely be allowed one coach who will have access to the workout/warm-up area. For anyone who is planning to go if you have any general questions about the Games please hit us up.
A few things to consider:
It is hot. Africa hot.
It is outdoors in the sun all day and night. 
You are on your own for food, transpo, lodging, airport, etc. If you like soul food then there is a soul food grocery right out the gate so you are in luck there.
You are responsible for managing your own daily schedule and logistics to get both to and from the HDC and anywhere else. I will not be coordinating any of that for anyone as it will take likely all of my efforts to simply get Michelle up and on time to the Games each day. That is a WOD in itself.
It is not kid friendly. Don't be those parents that left their kids broiling against a fence baking in the sun all day while their mom rooted for Speal and Mikko.
If you do not like sitting in the sun for very long periods of time watching wave after wave of shirtless, jacked and tan people work out then the Games are not for you. 
There is really nowhere else to go unless you decide to go to a theme park while you are there, or you can take a driving tour of Compton (located conveniently next to the HDC). 
On site food and beer is astronomically priced. If you are willing to pay $16 for a beer please let me know as I would like to finance a loan for additional space for the box.
Did I mention it will be hot? 
Did I mention it will be all of the above for three long days?
If all of that is no problem then come one come all! It really is an epication! (defined as epic vacation)
While we are there we want to ask for your understanding that Michelle and I will be on vacation too apart from our role as Pat's coaches. His success is our main focus, followed by our enjoyment of taking in the Games, seeing friends in the CF Community and hopefully getting a little sun, rest and relaxation. 
Now for some CF Games related Media, videos, and other cool stuff: 
Regionals and Games Prize Money Announcement
Annie Thorisdottir and the I.N.C.