Strength WOD:
Every Minute On the Minute (EMOM) for 15 Minutes complete 1 Snatch (Squat)
Post lowest and highest load
Checkout WOD:
5 Rounds for Time:
9 Snatch (Squat) (75#/55#)
12 Kettlebell Swings (53#/35#)
200m Run
Results
View this photo
View this photo
Quote of the day: "Nothing feels quite like a good snatch." ~ Coach Mike Burgener
Checkout Justin's Snatch!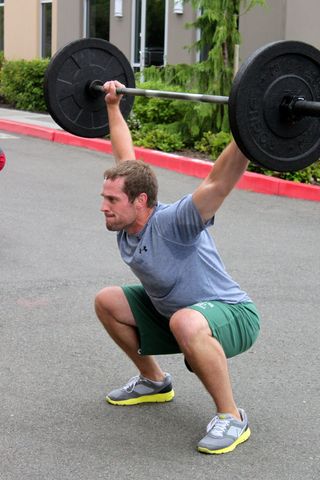 Today was all about showing off your snatch. Ah these jokes never get old (at least for me)!
While most everyone worked on the squat (the most technical) others spent time on the power snatch or the hang squat snatch. Either way remember the lift (both squat and power) is complex; as there are at least a dozen or so vital cues racing through your head and only a few seconds to execute the movement and get under the barbell. Focusing on a proper setup, good jumping and landing position, being comfortable and pulling fast under the bar will give you the keys to a successful lift.
Michelle and the 1st, 2nd and finish of the 3rd pull of the snatch:
Reminder:
Class schedule for this week and next is posted above at the top of the site! Thursday will only be a 0830 and 0930 class and then we are closed until Monday. On monday there will only be a 5pm and 6pm class. This also means no CrossFit Kids on Saturday!
I will post a workout for Friday and Saturday for you to do on your own. They will be on beyondthewhiteboard as well as on the SRCF Facebook Group page.
CrossFit Games:
Want a preview of what the EPSN3 webcast of the 2011 Games will be like? Check out the "rep by rep" commentary of: The Final Women's Event at the NorCal Regional
The Games Update: Three Days Out – video [wmv] [mov]
This is too funny: