Strength WOD:
1RM
Snatch 
Checkout WOD:
Perform max reps for 8 consecutive Tabata intervals of 20 seconds of work followed by 10 seconds of rest. Rest 1 minute between exercises.  
Tabata score is the least number of reps performed in any of the eight intervals. Post lowest Tabata score for each round and total for final score as Total Reps. 
Results
View this photo
View this photo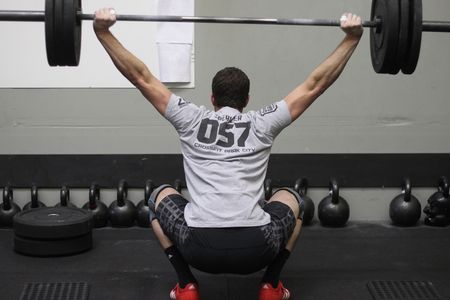 Quote of the day: "Do what you can, with what you have, where you are."  ~ Theodore Roosevelt
I love seeing the results and the letters "PR" next to people's numbers.
This Friday will be a combo birthday WOD. Come celebrate!
Tomorrow's WOD is Open 13.4.
Watch the Workout 13.4 Live Announcement on the CrossFit Games site This WOD announcement was the best yet with a cool matchup between Speal and Graham.
Click here to see the workout description. 
Click here to watch Julie Foucher demo a video submission for Open Workout 13.4.
Click here to read the article.
Complete as many reps as possible in 7 minutes following the rep scheme below:
3 Clean and Jerks (135#/95#)
3 Toes-to-bar
6 Clean and Jerks 
6 Toes-to-bar
9 Clean and Jerks
9 Toes-to-bar
12 Clean and Jerks
12 Toes-to-bar
15 Clean and Jerks
15 Toes-to-bar
18 Clean and Jerks
18 Toes-to-bar…
This is a timed workout. If you complete the round of 18, go on to 21. If you complete 21, go on to 24, etc.
RX Standards:
– C&J: Barbell begins on the ground. Touch and go is permitted. No bouncing.
– Bar must make contact with the shoulders (lift is in two distinct phases), the clean, and then the jerk. Snatching is not permitted.
– You may press, push press, split or push jerk off the shoulders. Elbows, shoulders, hips and knees are fully extended, and the bar finishes directly over the body with the feet in line. 
– If a jerk is missed but brought back to the front rack, you may re-attempt the jerk from there without taking the bar back to the floor.
– T2B: full hang to having the toes touch the pull-up bar. Both feet must be in contact with the bar at the same time.
– The feet must stay inside the hands. (No T2b with narrow grip and feet outside)
– Arms and hips must be fully extended at the bottom and the feet must be brought back behind the bar and behind the body. 
– Each class you will pair up and go in 2 waves. 
– If you are registered and competing in the Open you will go first with a judge. Judge is responsible for counting and calling "no rep". 
– HOOK Grip the Clean and Jerks! The T2B will be a grip issue very quickly.
– Have fun and push your fellow athletes!