Strength WOD:
1RM
Snatch 
Conditioning WOD:
For time:
400m Run
21 Overhead Squats (95#/65#)
21 Box Jumps (24″/20″)
400m Run
15 Overhead Squats 
15 Box Jumps 
400m Run
9 Overhead Squats 
9 Box Jumps 
Results
View this photo
View this photo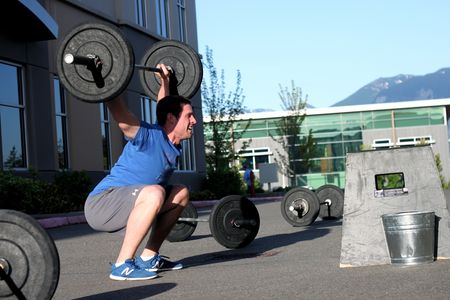 Lots of Snatch PR's today! If you didn't PR don't freak out, working at 80-90% of your 1RM with consistency and improved technique is what leads to a PR. Get those reps in, focus on form and the weight will come.
"This Is Annie Thorisdottir," CrossFit Journal video [wmv] [mov] [HD mov]
Regionals tickets and SRCF schedule:
List of 2013 Regional Events for Individuals and Teams
Get your tickets now! We will be closed on Friday, May 31st and Saturday, June 1st for the NW Regionals. Come cheer on Mark and watch the competition.
Events:
This Saturday evening Dirk and Meredith are hosting First Descents Wine-O-Rama at Kestrel Winetasting Cellar for a fundraiser for young adults stricken with cancer.
First Descents is a non-profit foundation dedicated to the needs of young adults with cancer. First Descents provides unique outdoor education experiences to let these young cancer fighters reclaim their lives. Kelly Starrett (who is riding with the First Descents cycling team with Dirk this summer) also donated a spot to a Mobility and Recovery seminar this December and a signed copy of his Supple Leopard to raffle off and help raise funds.
Details:
Where:Kestrel Winetasting Cellar, Woodinville, WA
When: 5-9pm, Saturday May 18th
Cost: Please join them at the Kestrel Winetasting Cellar for a special tasting event where, for your donation of $25 dollars, you will be treated to some of Kestrel's best wines paired with a special selection of appetizers and desserts.
NOTE: If you cannot attend but would like to make a donation, please donate any amount to Meredith who will then consolidate all donations from our gym and Barbara will help get a 3 to 1 matching grant from the Gates Foundation. Donations to Meredith would need to go to her by June 1st.