3 Rounds for Time: 
400m Run
21 Squat Snatch (75#/55#)
15 Push Press (75#/55#)
Results
SnoRidge CF: Advanced RX Skills Challenge Results:  View this photo

Teri and Moe push pressing and snatching: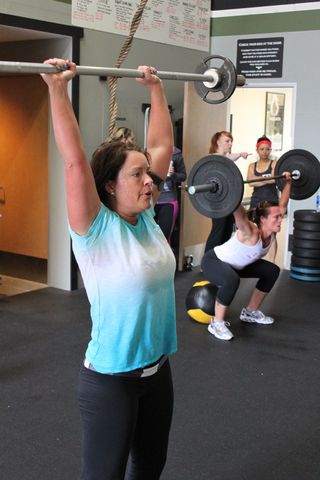 So the weather didn't cooperate on Saturday as this WOD originally had wall climbs (at a lower rep scheme) instead of push press. After Marc pointed out he was ice skating up and down the wall prior to the WOD we made a snap decision to sub in push presses. Turned out to still be a tough WOD with the same desired effect I had in mind. Don't let the light snatch fool you, this one was deceiving.
Tomorrow will be our Murph Memorial Day Challenge! It's full at 0930 so if you want to come then come at 1030 and we will fit you in. 
Memorial Day Schedule for Monday 5/30 "Murph Hero WOD for Memorial Day":
Monday we will have two class times ONLY
Wave 1 will be at 0930
Wave 2 will be at 1030
Sign-ups will be required via Mindbody, Facebook or post to comments here on the blog
WOD is Murph or "Half Murph" – half the reps and run
Who was Murph? A Medal of Honor recipient that was killed in Afghanistan in 2005; his story and that of Seal Team 10 is incredible. Read about him here.
Sign up and register, donations are not required but if you want to then go online at the above link (donations go to three different charities)
You can also buy a shirt (included with registration so either way if you want a shirt it's the same cost)
If you don't want to donate no worries just come do the WOD and honor our fallen heroes who have sacrificed for our country. 
Lucy cleans: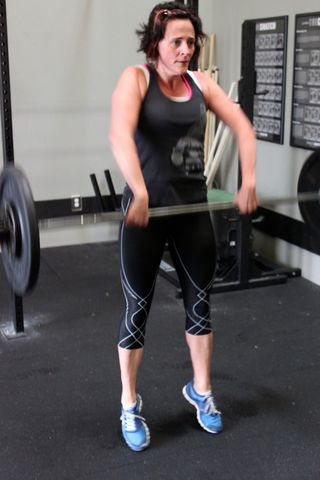 Games Regionals Update:
The first weekend of Regionals are in the books for the Australia/New Zealand, North Central, Southeast and Canada West Regions.
For plenty more videos and story updates from each region go the 2011 Reebok CrossFit Games site.
Watch: A great interview with a former NFL Player (Oakland Raider) who now owns a box and wishes he had CrossFit back during his playing days. 
"If I Just Would Have Done CrossFit" with John Stone, CrossFit Journalpreview video [wmv] [mov]
Nutrition:
Anyone interested in trying their own "Larabar" style bar check out this Primal Bar recipe that was posted on Rainier CrossFit's site.