Strength WOD:
15 minutes to complete:
1RM Snatch
Conditioning:
2 Rounds for time:
500m Row
25 Med Ball Cleans (20#/14#)
15 Chest-to-bar Pull-ups
Results
View this photo
View this photo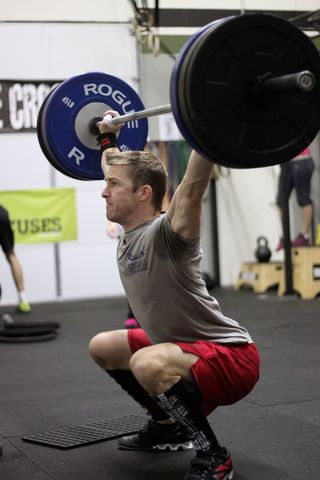 Fist bumps and booty slaps to everyone today! Whether you PR'd or not, the focus on snatching truly shows throughout the gym.
Homework:
Read this. It will improve your snatch.
Spencer Arnold – Sweep It Back.
Then watch this.
"Snatching From the Blocks" with Doug Chapman, CrossFit Journal video [wmv] [mov] [HD mov]
If you have any questions about either of these then ask me next time you see me in the gym. Since I only have one hand and I'm not a huge fan of air squatting myself to death I would love to talk you to death instead about what you need to fix or address in your snatch. BTW I am totally claiming credit for beating M in total PR's as I had 9 PR's in my 2 classes to her 10 PR's in 3 classes. Plus I know that's why she didn't PR in my class. Sandbagger.