Strength WOD:
EMOM (Every Minute On the Minute) for 7 minutes complete:
1 Snatch (Squat, choose load)
Conditioning WOD:
21-15-9 Reps of each for time of: 
Knees-to-Elbows 
Squat Snatch (95#/65#)
Results 
View this photo
View this photo
View this photo
'N Sync: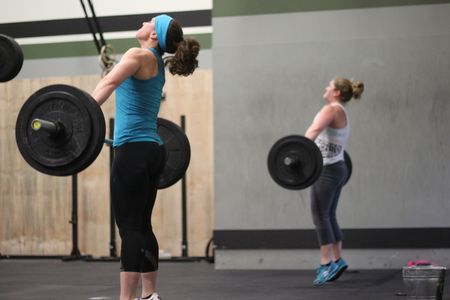 Pretty interesting how some knees-to-elbows can mess up your midline for snatches. 
This Thursday is the "Battle In Seattle" as the 14.4 Open WOD 14.4 Announcement will go down at CrossFit Bellevue. Tickets are long past sold out and for those who bought tix and are going the doors will open at 3:30pm. Parking is not available on site and you will need to park at 13620 SE Eastgate Way and ride the provided shuttle over. Shuttle runs 3pm-9pm. Wear your SRCF shirt and try to link up if you want. Seats/bleacher spots will be hard to come by so if you get there and have a great spot then keep it and enjoy the show!
All Classes on Thursday will run on the normal schedule. Thanks to Moe and Lindsay for covering! I will plan to have the TV set up in the lobby to stream the announcement as usual at 5pm.
CrossFit Games Update: March 18, 2014 – [video]
Danielle Sidell and Austin Malleolo Win 14.3
Chris Spealler hitting a 275# C&J: