For time: 
1 Mile Run
30 Knees-to-Elbows (K2E)
75 Double-Unders
800m Run
20 Knees-to-Elbows 
50 Double-Unders
400m Run
10 Knees-to-Elbows 
25 Double-Unders
Results
View this photo
View this photo
Runs, Knees-to-Elbows, Double-Unders:
Regionals has begun halfway around the world:
The 2011 Reebok CrossFit Games Australian Regionals Team Workout 1, Heat 1
Coming 3x/wknd, the Regional Update Show – Preview video [wmv] [mov]
Notes:
Class/WOD Schedule for Saturday 5/28:
On Saturday 5/28 we will have a normal class schedule of 0930
At 1100 we will host the Advanced RX Challenge. This is a test of advanced movements, loads, and skills that we will use to determine eligibility for the advanced RX class which will begin in June and feature more advanced WOD's.
Explanation and reasoning behind the Class can be found here
This class will be open to any members (and coaches) who can pass the test. Passing scores will be explained prior to the challenge with the bare minimum number of skills required to pass. This class will be kick ass! It is a "Go/No-Go" test and will be difficult. The intent of the test to is show areas that are clearly weaknesses to improve upon.
Read the skills and standards that make up the SnoRidge CF: Advanced RX Skills Challenge 

before

you decide to show up and test. 
 Memorial Day Schedule for Monday 5/30 "Murph Hero WOD for Memorial Day":
Monday we will have two class times ONLY
Wave 1 will be at 0930
Wave 2 will be at 1030
Sign-ups will be required via Mindbody
WOD is Murph or "Half Murph" – half the reps and run
Who was Murph? A Medal of Honor recipient that was killed in Afghanistan in 2005; his story and that of Seal Team 10 is incredible. Read about him here.
Sign up and register, donations are not required but if you want to then go online at the above link (donations go to three different charities)
You can also buy a shirt (included with registration so either way if you want a shirt it's the same cost)
If you don't want to donate no worries just come do the WOD and honor our fallen heroes who have sacrificed for our country. 
Allen (owner and friend of Imperial CrossFit) dropped in today and we all happened to be wearing each other's shirts: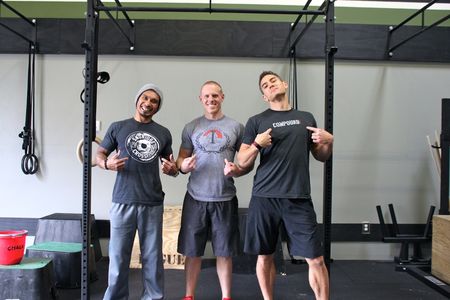 Check out the amazing custom box jump that Greg T. made us (this is reserved for use by anyone with a matching last name or by Greg, not for gym use!):