Skills WOD: 
Choose between:
4 Minute AMRAP:
Muscle-ups
3 Minute AMRAP:
Strict Pull-up 
Conditioning:
5 Rounds of max reps of each of the following exercises:
1 Minute of Wall Balls (20#/14# to a 10'/9′ Target)
1 Minute of Row for Calories
1 Minute of Over the Box Jumps (24″/20″) 
1 Minute Rest 
* In this workout you move from each of three stations after a minute.The clock does not reset or stop between exercises.
** This is a three-minute round of max reps per exercise from which a one-minute break is taken before repeating. On call of "rotate", the athletes must move to next station immediately for best score. 
*** Score total reps/calories and reps per round.
Results
View this photo
View this photo
View this photo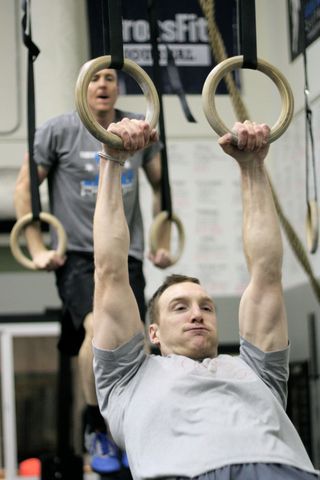 This variation on Fight Gone Bad is 5 rounds of a cardio-respiratory beat down and a mental test of maintaining max effort. Great Open prep!
Unsure of participating in the CrossFit Games Open? Ask yourself why you are standing on the sideline. Then watch this and then reconsider your reasons for not signing up.