12 WOD's of Christmas at SRCF! (v 3.0)
For time:
12 Lateral Burpee Over Bars
11 Kettlebell Goblet Squats (53#/35#)
10 Alternating Dumbbell Snatches (50#/35#)
9 Toes-to-bars
8 Box Jumps (24″/20″)
7 Pull-ups
6 Kettlebell Swings (53#/35#)
5 Deadlifts (75#/55#)
4 Power Cleans (75#/55#)
3 Push Press (75#/55#)
2 Thrusters (75#/55#)
1 Sumo Deadlift High-pull (75#/55#)
* Like the song 12 days of Christmas. Complete 1, then repeat down 2/1, then 3/2/1, then 4/3/2/1,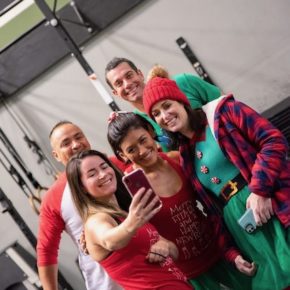 5/4/3/2/1 up to 12 and back down (complete each exercise in ascending order then work back down, adding one exercise per round)
Ex. On the 1st day of Xmas, my coaches gave to me, one Sumo Deadlift High Pull; on the 2nd day of Xmas my coaches gave to me, 2 Thrusters and 1 SDHP; on the 3rd day of Xmas, my coaches gave to me, 3 Push Press, 2 Thrusters, and 1 SDHP; etc.
Photos by @robcwilson
This year Santa brought an altered version of the "12 Days" WOD with a few new movements after the barbell complex.  While the workout actually took slightly longer than previous year's, the switch to T2B with less reps, and the KB goblet squats felt easier. The slow part really came down to the final few rounds with the Alternating DB snatches and Lateral burpees. Almost everyone managed to fall into the rhythm of the 12 WODs of Christmas this year but those who didn't quickly realized they were off by looking around at the holiday chaos.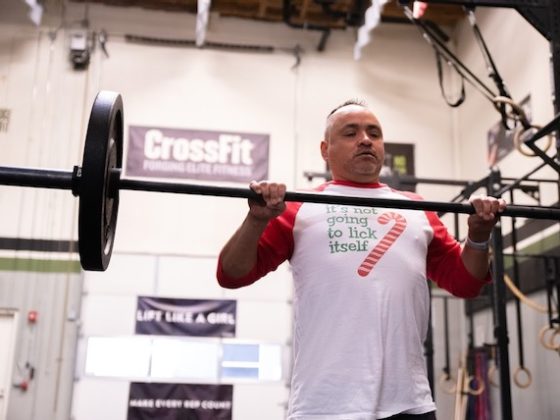 Reminder we are closed on 12/24  and 12/25 (Christmas) and there is no 5:30 am class on Thursday 12/26.  Other classes are normal schedule.  See below for the full schedule.
Have a Merry Christmas or Happy Holidays and may you all get to spend it with your loved ones!