21-15-9 Reps for time:
Overhead Squat (95#/65#)
Burpees
Results
Heidi and Darawan complete "Jeremy":
This named WOD is a different from all the others. "Jeremy" isn't for a soldier, LEO, firefighter, or other type of hero. This one is for a young 3 year old boy who died in a tragic accident. The kids version of this WOD uses a PVC stick for the overhead squat. The adult version of this workout has since been modified to the above loads for the prescribed version. RIP young Jeremy.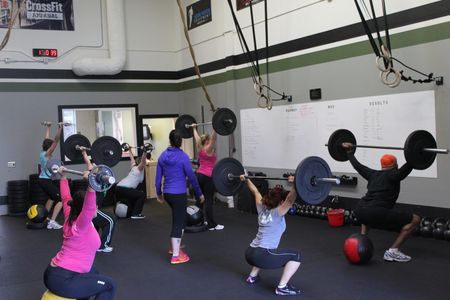 Notes:
Saturday class at 0930 and Open 11.1 WOD at 11 for those giving it a go.
Watch and try this Paleo recipe of a meat crust pizza. Jeremy and Kim did and loved it. We plan to make some meatza and try it this weekend.
Meat Pizza or "Meatza" with Nick Massie, CrossFit Journal preview video [wmv] [mov] and recipe [pdf]
Over 23,500 people have registered to compete in the CrossFit Games Open: Update on Regional Participation in the Open
Welcome Amy, Caryn, Loren, Anapurna, and Greg who all recently completed Elements!
Elements in action: