Choose:
"Lite" WOD (less filling) for time:
20 Handstand Push-ups
40 Toes-to-Bar
600m Run 
60 Push Press (75#/55#)
120 Double Unders
"Main Site" WOD (tastes great) for time:
25 Handstand Push-ups
50 Toes-to-Bar
800m Run 
75 Push Press (75#/55#)
150 Double Unders
WOD Demo at the CrossFit Competitor's Course – video [wmv] [mov] [HD mov]
Results
View this photo
View this photo
Toes to bar: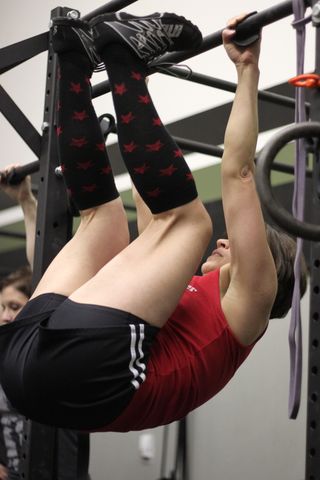 Open WOD 12.2 has been announced. Click the link below to read up and then watch the video for some snatch tips. Tomorrow we play with snatches!
CrossFit Games Open Workout 12.2 Announced.
"Efficiency Tips: The Snatch" with Eric O'Connor and Chris Spealler, free CrossFit Journal video, preview – [wmv] [mov]
Download a PDF of the workout description and scorecard
Here are the expectations for Open Week 2 for everyone:
Workout 12.2 (For Thursday all classes)
Proceed through the sequence below completing as many reps as possible in 10 minutes of:
30 Snatch (M 75 / F 45 lbs)
30 Snatch (M 135 / F 75 lbs)
30 Snatch (M 165 / F 100 lbs)
Max Rep Snatch (M 210 / F 120 lbs)
This workout begins from the standing position with the barbell loaded to the starting weight. In the Snatch, the barbell goes directly from the ground to overhead in one motion without stopping at the shoulders. This can be a muscle snatch, a power snatch, a squat snatch or a split snatch. A clean and jerk is not permitted.
Each class you will pair up and go in a minimum of 2 waves. 
If you are registered and competing in the Open then you will go first.
Judge is responsible for counting and calling "no rep". 
Standards to judge: 

Touch and go from the floor
At top of rep the knees, hips and arms must be fully extended
Each rep will be counted once the athlete clearly shows control of the barbell overhead (feet together; not walking) 
Athlete must be responsible for loading their barbell to the appropriate loads during the workout
Same barbell must be used for the entire workout and you may not receive assistance when changing the loads
Using additional pre-loaded barbells is not permitted
Collars must be on the bar

Bar Loading Guidelines for above loads:

Men: 45# bar, two 15's, then strip and load two 45's, add two 15's, strip and load two 35's plus two 2.5's
Women Option A: 33# bar plus 1# plates and two 5's, add two 15's, add two 10's plus two 2.5's, add two 10's
Women Option B: 45# bar, add two 15's, add two 10's and two 2.5's, add two 10's
Option C: If we run out of bumpers and plates in these combos then figure it out with other options!

No scaling loads allowed unless you cannot do the starting weight for a snatch. This means if you can only do the first load (75#/45#) for 30 reps then your WOD is 10 minutes to complete a scaled "Isabel". 
Have fun and push your fellow athletes!
Take care of yourself. Mobility Class each Wednesday night at 6pm: