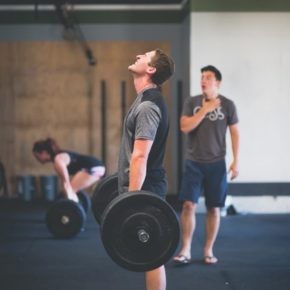 Teams of 2 complete for time:
Chin Over Bar Pull-up Hold
60 Hand Release Push-ups
Deadlift Hold (225#/155#)
1000m Row
100m Run
80 Kettlebell Swings (53#/35#)
Overhead Bumper Plate Hold (45#/25#)
100 Squats
* One bar per team, Partner 1 begins with the hold (or run) while Partner 2 begins completing the required number of reps. (ex. Partner 1 holds Chin Over bar while Partner 2 completes HR Push-ups. Swap when partner 1 drops from bar)
** Switch when Partner 1 cannot maintain the hold position (or when Partner 1 returns from the 100m run)
*** Alternate until the task is done and move on.
Photo by @robcwilson