3 Rounds for Time:
1 Rope Climb (15′)
15 AbMat Sit-ups
15 Burpees 
1 Rope Climb (15′)
15 AbMat Sit-ups
15 Burpees
* Rest 1 Minute between rounds, clock continues to run
Subs for Rope Climbs:
2 Supine Rope Pull-ups from Floor to Standing back to Floor = 1 Rope Climb 
or 6 Dead Hang Pull-ups 
Results
Supine Supervision: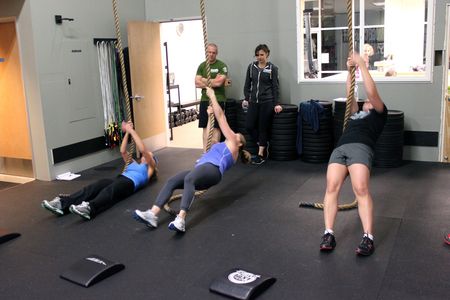 Who had fun learning to practice rope climbs today? We had fun teaching it to each class. There was some discussion with your trainers tonight on what heights to use for rope climb standards for men's and women's RX heights. For now we are going to use the following height scaling:
20′ for men /15′ for women
15′ for men / 12′ for women
10′ Climb for first timers or new climbers (must demo leg lock)
We will tinker with it and see if we change. Like scaling a wall ball height, we choose to use a slightly lower height for women over men.
Attention competitors! Two important items:
First: Below is the 2011 CF Games video update on the Sectionals Open. Not much info but enough to whet our appetites.
Second: This weekend at CF Bellevue there is a local throwdown competition for those interested. Event is hosted by CF Interbay and CF Bellevue on Saturday from 8am to 6pm. Details can be found here. If you are wanting to compete let us know. We won't be attending as we are concluding our "Stop the Slop" Challenge on Saturday which means the return of "Jackie"…
"Get Ready for the Open!" – video [wmv] [mov]
We have a new view! Upstairs window is in. That means you can watch the action or your coaches can hurl cues at you from above. (No rotten fruit or booing allowed)
Notes:
Guys: If you like "fight shorts" and want a pair with our logo on them (shown below) I am going to order a pair (black color on blank MMA shorts) and have them sent to our screen printer. He will then take the shorts and print "SnoRidge CrossFit" up the side.  If you want a pair then please let me know no later than Monday 2/21! Once I know how many people are interested I can coordinate logistics for how to order your pair and have them sent to our graphic/printer guy. Cost is $31 for shorts plus shipping and around $15 for printing and shipping back to us. Post to comments if you want to order.
Fight Shorts: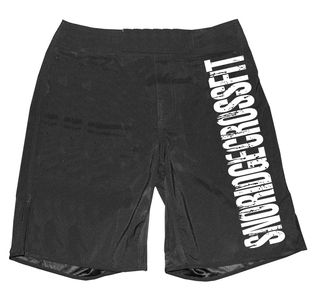 "Too Weak" ($20) and "250 WOD Club" ($15) T-shirts are in! If you want a "Too Weak" shirt then get one. If you ordered a 250 WOD shirt and earned it please get yours soon. They look sick!