3 Rounds for time with 1 Minute of rest between rounds of:
20 WallBall (20#/14#)
20 Sumo Deadlift High Pull (75#/55#)
20 Box Jump (20″)
20 Push Press (75#/55#)
20 Row (Cal)
Continuous running clock with 1 minute rest between rounds.  
Score time per interval while ensuring you subtract the 1 minute of rest per round from total time (-2 minutes).
Results
View this photo
View this photo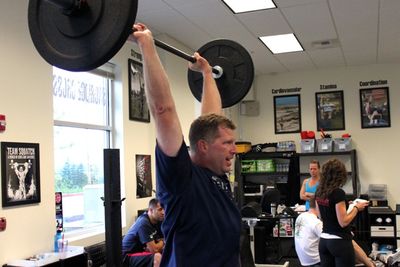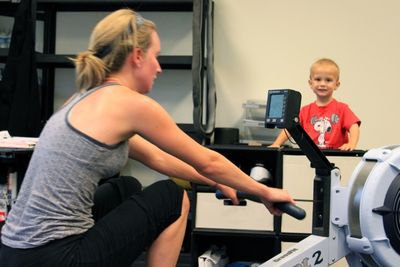 Fight Gone bad: Task Priority video: CrossFit Journal preview with Jimi vs Josh [wmv] [mov]
* Note: Tossing the bar after the last SDHP rep like Josh does in this preview video will earn burpees. It's uncool.
What's different with this WOD over the standard FGB? Well this is not a time dependent WOD. It's a task dependent one. You have to complete the task of 20 reps of each three times. How fast is up to you. If it was time dependent it would be the standard FGB version where you have 1 minute per exercise to complete as many reps as possible in that minute.

Four gyms. Three causes. Two ways to participate. One Brutal Workout. On Saturday 9/18 SnoRidge CrossFit will host the Fight Gone Bad V fundraiser workout along with CrossFit Belltown, Compound Fitness, CrossFit Basic, and CrossFit Redmond. This workout will benefit Livestrong, The Wounded Warrior Project, and the CrossFit Foundation. We will have times set up for groups to sign up and plan on arriving to run through it. With equipment from others we are hoping to run up to 7 at a time.
What two ways can you participate?
Raise funds via your fundraiser page on the FGB website.
Donate to someone's page or donate the minimum amount of our drop-in fee of $15 of which will all go to the FGB effort.
We will only allow those who donate or raise funds the opportunity to complete the workout. We believe in the causes! If you can't raise funds, then pony up the minimum $15 to go towards helping fight cancer, helping heroes from our military who were wounded and permanently disabled, or helping a family of a first responder or soldier in need. It's the equivalent of a few Starbucks drinks!
 SnoRidge CrossFit currently has raised $1450 total as a gym on the FGB website. We need to keep trying to grow that!
Curious about the workout? Click for more details.
Sean training for the USAW/CF Open: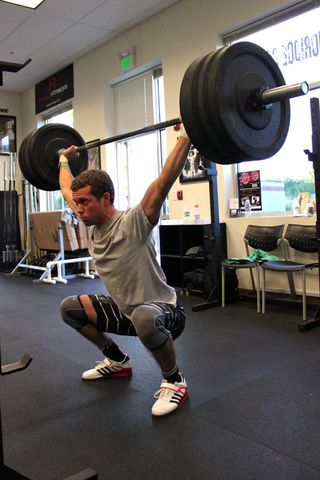 Question of the day: "Will he or won't he wear a singlet in competition?"